How to Prepare for a Career in Wedding Planning
Job Experience and Professional Certifications Can Make All the Difference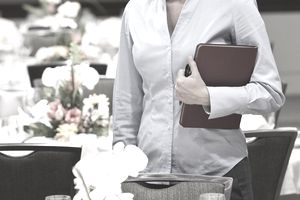 ​Accountants, secretaries, banquet professionals, homemakers, and others working in any profession have one thing in common: the door to opportunity is open when it comes to becoming a wedding planner. Why is that? In reality, wedding planners come from all walks of life. While that doesn't mean that getting started is as simple as waking up one day and printing some new business cards, it does mean that with hard work and the right skills, a career in wedding planning is possible no matter your background.
In fact, according to Marsha Ballard, former president and secretary of the American Association of Certified Wedding Planners (AACW) and owner of Stardust Celebrations Corporation, there is not necessarily one field of work or study that produces the most wedding planners. So whether you've just graduated from school or you are looking for a career change, here's a few tips for gaining the skills necessary to become a successful wedding planner.
Jobs That Develop the Skills of a Wedding Planner
So you know that you're interested in wedding planning, but you're not sure where to start. If you're looking to get a feel for the industry and develop some of the skills necessary to become a wedding planner, you might want to be on the lookout for certain job opportunities. Which opportunities? For that question, I turn again to Marsha Ballard for answers.
Ballard suggests that working in the banquets department of a large hotel could serve as good training ground to learn the expectations of the reception component of a wedding.
While a banquet department can provide a great behind-the-scenes glimpse of wedding reception planning that could come in handy down the line, it's not the only experience that can directly translate into the wedding planning sphere.
There are several other related jobs that can prepare someone to become a wedding planning (whether independently or as part of a group or corporation), including but not limited to:
Florist who mainly serves wedding clients
Other event planning jobs
Church coordinators
Banquet facilities
Perhaps one of the best first-hand experiences a prospective wedding planner can have is as an assistant for an established wedding planner. Who better to learn from than from a successful planner him or herself?
Education and Wedding Planner Certifications
Education can also prepare individuals for a career as a successful wedding planner. "Personally, I believe wedding planners should have a basic college education," Ballard explains. And depending upon whether you plan to run your own wedding planning business, courses in accounting and general business administration could come in handy as well among others.
Ballard also strongly encourages the pursuit of professional certification, but making sure one takes the right wedding planning course. "AACWP offers day long or week long educational experiences, hands-on mentorships, and then certification after the student has completed three weddings," Ballard explains.
A day course costs around $400, which for many is a minimal investment for developing the necessary skills and determining whether entering this complex yet fun occupation is the right move.
Otherwise, gaining the kind of experience it takes to be a successful independent wedding planner can be a challenging task in itself.
"It is hard to get experience as a wedding planner," Ballard says, "I worked at a local church and then took a wedding planner course. After that, I was hooked and started my own business." AACWP offers mentorships to the students who take the AACWP course and who want to progress towards a certified wedding planner status.
More Wedding Planner Resources
For a deep look into the wedding planning industry and the life of a wedding planner, be sure to check out our article, The Realities of Being an Independent Wedding Planner.
More on Marsha Ballard and the AACWP
AACWP (the American Association of Certified Wedding Planners) was founded in 2006 by seven Dallas wedding planners, and has expanded to include the central region of the country – and intends to serve as a national voice for wedding planning certification and expertise.
Marsha Ballard, a registered nurse and holds an MBA, started her firm with her lifelong friend and colleague Jenny Cline after leaving a career in health care management. Established in 2001, Stardust Celebrations Corporation in Dallas owns two bridal Salons, employs about 40 people, and serves as wedding planner for more than 20 weddings each year.