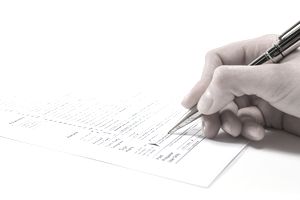 Form 1099-MISC "Miscellaneous Income" is the form businesses use to report payments to what the IRS calls "non-employees." The form is simple to complete; the major issue businesses have is who to send it to and when. Because this is a "miscellaneous" form, there are several types of payments that require a 1099-MISC. 
Form 1099-MISC includes information on compensation paid the previous calendar year to various individuals and entities.
You must send a 1099-MISC form non-employees you paid $600 or more to in the calendar year. This form is NOT used for employee wages and salaries.
Due Dates for 1099-MISC forms
1099s are due to contract workers by January 31 each year, for the previous calendar year, effective with the 2016 forms and beyond. You can read the details in this article about the 2017 annual payroll tax report deadlines. 
Gathering Information for preparing 1099-MISC forms
The information for this form comes from your business records for non-employee payments for each person or business you pay for services. You might be paying these individuals under "Professional Fees" or "Other Payments." Be sure to keep track of these payments by vendor, so you can run a list at the end of the year. 
The 1099-MISC is most commonly used for independent contractors and vendors who are self-employed individuals (not corporations).
For example, a janitorial service or web developer might be in this category. If you are confused about whether you should send a 1099-MISC to a specific business, read this article about who should receive a 1099-MISC form.
Do I Need to File a 1099-MISC for this person?
First, determine if you need to prepare a 1099-MISC form for a specific non-employee.
 If you have questions about whether to provide a 1099-MISC, check with your tax professional. When in doubt, provide the form. 
Then, determine if you paid this person 
In most cases, you don't have to file a 1099-MISC if the payments were made to a corporation, and payments to attorneys are a special case, detailed below.
You must provide this form to anyone to whom you paid $600 or more during the year. 
The main area of confusion in this form is whether to use Box 3 or Box 7 for non-employee payments.If you are in doubt about whether to use Box 3 or Box 7 to report payments to a non-employee, note the term "services" in Box 7. Check with your tax professional if you're still in doubt. 
Taxpayer ID Numbers and Form 1099-MISC
Before you prepare a 1099-MISC for someone, you must have a valid tax ID number for this person. You will need to get a W-9 form from each payee. This form includes name and address and the taxpayer ID. 
How to Deal with a Missing Taxpayer ID
Follow this series of steps set out by the IRS:
Make every attempt to get the taxpayer ID, by sending the person a W-9 form.
Document your efforts to obtain the W-9 form. Keep track of the attempts you made, including emails and mailings, to protect yourself from fines and penalties when the IRS contacts you.
File the 1099-MISC on time, including zeros in the space where the taxpayer ID is required. 
Information Needed for a 1099-MISC Form
Business Information. For each 1099-MISC you prepare, you will need to include information about your business:
Your Federal Employer ID Number
Your Business Name
Your Business Address
Recipient's Tax ID Number  This is the recipient's social security number or Federal EIN.
Payment Amounts  Enter amounts paid in the appropriate box:
Box 1 - Amounts you paid in rents (but not to a corporation) 
Box 2 - Royalties, from oil, gas, or mineral properties, or from intellectual property (patents, copyrights, trademarks)
Box 3 - Other income payments, including prizes and awards (boxes 3 and 7); including sweepstakes payments (but not prizes and awards to employees; payments for participants in research studies, and punitive damages. 
Box 6 - Medical and health care payments, for payments to "each physician or other supplier or provider of medical or health care services. Include payments made by medical and health care insurers under health, accident, and sickness insurance programs..." but not to pharmacies for prescription drugs. 
Box 7 - Services performed by a non-employee (including parts and materials; include here expenses for the use of an entertainment facility that you treat as compensation to a non-employee.
Box 9 - Direct sales of $5000 or more of consumer products for resale
Box 14 - Gross proceeds paid to an attorney (explained below)
The IRS list includes other categories which you probably wouldn't use, like fishing proceeds, crop insurance proceeds, and golden   
Federal Income Tax Withheld   Enter any amounts of federal income tax withheld from payments to a recipient in Box 4.
Section 409A Deferrals and Income   Boxes 15a and 15b require you to record Section 409A deferrals and income. Section 409A refers to a relatively new (2004) section of the Internal Revenue Code which has to do with non-qualified deferred compensation plans. Check with your tax adviser or a tax attorney if you think you may have to report non-qualified deferred compensation to someone.
State and Local Information   In this section you will enter information about state income and withholding. Note that you may enter information for one or two states. Enter:
If you must enter information for more than two states, you will need to complete another 1099-MISC for that information.
The amount of state tax withheld (Box 16)
The state/Payer's state number (Box 17), Your business's state tax ID number is NOT your state sales tax ID number. Many states use the federal tax id number (EIN) and add digits onto the end. Check with your state department of revenue for information.
State income (Box 18)
Check For Accuracy
Spend time to make certain that the information you are providing to recipients, and to the IRS and any state taxing entity is accurate. Check your payment totals for the year and run a 1096 Form to double-check accuracy. Read more about other common errors in 1099-MISC forms before you print and distribute. 
Print and Distribute Forms
The 1099-MISC is a multi-part form. Here are the parts of this form and where to send each:
Copy A is sent to the Internal Revenue Service
Copy 1 is sent to the state tax department(s)
Copy B is for the recipient.  
Copy 2 is for the recipient to file with his/her state income tax return
Copies B and 2 must be received by the person no later than January 31 of the year after the tax year. 
Copy C is for the payee (you).
Filing 1099-MISC Forms with the IRS
You can file 1099-MISC forms with the IRS through the Filing Information Returns Electronically (FIRE) system. The deadline for filing each year is January 31 of the following year. 
​Disclaimer
The information provided in this "How To" is for general purposes, to help you collect the information you need to prepare and print 1099-MISC forms. It is not intended to be tax advice and in no way does this information attempt to be comprehensive or to tell you all the information that must be included in your 1099-MISC forms. Talk to your tax adviser for information about your specific situation.
Back to Filing Year End Wage and Tax Reports