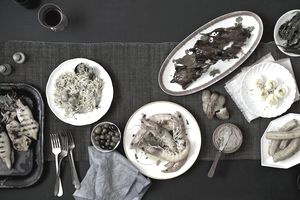 Cookbooks usually require photographs — to illustrate finished dishes, to offer visual cues into specific cooking steps, or to show serving suggestions. Many of the details of a cookbook's photography requirements — ex. how many photos, who's paying for it, how the images will be delivered, deadlines — are in the author's book contract with the publisher. 
For a close look at the actual photography process, Evi Abeler, food photographer and Food Photography expert, graciously agreed to "cross over" to Book Publishing.
In this Q&A she gives aspiring cookbook authors some insider hints and tips on planning a cookbook photo shoot and what the experience is like:
Valerie: There are so many attractive Instagram food shots... what does a pro bring to food photos that an amateur doesn't?
Evi: Some amateurs take beautiful photos and might even be able to shoot a cookbook for you. That said, a cookbook shoot usually involves 50-100 recipes and typically is shot in 5-10 twelve-hour days. There are many prep days, meetings, negotiations, and of course days of post-production. Not every amateur is prepared for this kind of involvement or can even imagine what it takes to photograph a whole book. Also, the job requires a lot more then just taking beautiful photos.
Most of the time the photographer is the one that assembles the team for the shoot, (food stylists, prop stylists, assistants) secures the studio and makes sure everything runs smoothly, the team and the clients are happy, and any problems are resolved quickly.
Valerie: What is your preliminary discussion with a cookbook author like? What kind of information should she or he ideally come with to an exploratory meeting or phone call with a food photographer?
Evi: It would be dreamy if a cookbook author would come with the following:
a photoshoot budget 
a timeframe, or a deadline when the images have to be ready
5 cookbooks that they love
a couple of food photos (form books, blogs, or magazines) they find inspiring
any books they have done in the past
Valerie: You mentioned the team you assemble. Who are the essential members of the team — what are the roles required to ensure an efficient food photo shoot?
Evi: Most essential is the food stylist and his or her assistants. They take care of all the shopping, prepping, and styling of the food. A kitchen help, who cleans and organizes the dishes, kitchen, and floors is highly appreciated on set.
Next is a prop stylist and her or his assistants. They take care of all the shopping, renting, styling, and returning of the props. If there are life-style images (that is, people) involved in the shot, you hire a stylist, groomer, hair and makeup artist for a part of the shoot.
On most larger shoots we have a production coordinator, who plans everything in advance, creates a shoot schedule, keeps everyone on track, manages deliveries, and handles all questions and requests.
Valerie: Once someone has engaged you and scheduled a shoot, what's the preparation like? What do you expect from the author? What decisions need to be made?
Evi: I usually suggest a team and we plan a couple or three production meetings with the author.
The first one might just be a let's get to know each other and the project, and gather ideas.
The second one gets into the nitty gritty of each recipe; that is, how should it be prepared, styled, propped, and photographed.
The third one covers logistics, changes, and any issues that have come up.
I should mention that there are some authors who are involved in everything and others that only show up once during the shoot and let the rest be handled by their publisher, manager, or assistant.
Valerie: What are the most important factors for a successful food photo shoot?
Evi: Clear and open communications are always a must. Tell me if you don't like something. We are here to make your project come true, but we can't do that if there's no communication.
Make sure you pick a team you enjoy working with. I think it's important to have a good rapport with the photographer and stylists so that you can feel comfortable and supported throughout the shoot.
Of course, there are many more tips. Publishing a cookbook is a bit like giving birth for an author so you want to be in the right photographer's hands.
Read food photographer Evi Abeler's tips on how to minimize the costs of a cookbook or other food photo shoot.
And read what you should know about advance planning per the food photography obligations in your cookbook publishing contract.