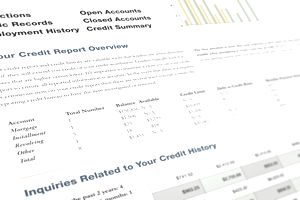 Your credit report contains a wealth of information about your credit history including the credit card and loan accounts you've had opened, the balance on your accounts, and whether you've paid on time.
Several companies use your credit report to decide whether to do business with you. Creditors and lenders use your report to give credit and loans to you. Employers use it to hire you. Landlords use it to rent to you.
You should check it at least once a year to detect identity theft and make sure the correct information is being reported. That way you can get your credit in the best shape before you ever make any credit-based applications.
Annualcreditreport.com
Federal law gives you the right to view your own credit report once each year from each credit bureau. AnnualCreditReport.com is the centralized website to order your free credit report granted to you by the Fair and Accurate Credit Transactions Act (FACTA). This is the only place to get a free credit report from the three major credit bureaus without obligation.
The Credit Bureaus
You can order your credit reports from each of the credit bureaus individually by going directly to their websites: Equifax.com, Experian.com, and TransUnion.com. You can purchase your credit report with only that bureau or a three-in-one credit report that shows all three credit reports side-by-side.
A single credit report from the bureau is less expensive than the three-in-one credit report. But if you plan to purchase all three credit reports, the three-in-one credit report is a better value.
MyFICO
FICO, the company who developed the FICO credit scoring model, allows you to purchase your credit reports and your FICO score through the website myFICO.com.
You can order a one-time credit report or subscribe to their credit monitoring service and view your credit report once quarterly.
Free Credit Reports
Outside your free annual credit report, you can receive a free credit report in other specific situations. If you've had an application denied, you're unemployed and plan to look for a job, you receive government assistance, or you've been a victim of identity theft, you may be entitled to a free credit report. You must order this version of your free credit report directly from the credit bureau, not through the centralized annual credit report website.
In addition, certain states have laws that grant additional annual credit reports free.
CreditKarma.com and CreditSesame.com are two credit management websites that give your credit report for free.
Precautions
There are many phishing scams related to credit reports. According to ​Privacy Clearing House, there are 96 imposter websites for annualcreditreport.com. These websites either want your personal information or want to trick you into signing up for a paid subscription service. Here are some tips for avoiding free credit report scams:
Only visit trusted websites to get your credit report. The sites mentioned in here are safe sites. Be cautious about visiting any other site.
Don't click on links in emails, even if the email appears legitimate. More often than not, the link will take you to a scam website posing as the real thing.
If you mistakenly click on an email link, check to see if the address in your browser is the address you expected. If the URL looks suspicious, close your browser, and clear your cache and cookies.
Only enter your personal information into secure sites with URLs beginning with "https" or with a lock in the lower-right of the browser, or both.
If you think your personal information has been compromised, you can add a fraud alert to your credit report to warn creditors to take extra steps to confirm your identity before approving a credit-based application.