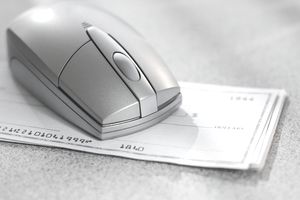 When you write checks, you have to refill your bank account as well as your checkbook. So what's the safest, fastest, and most affordable way to order new checks?  
Your Options for Ordering Checks
Whether you need personal checks or checks for your business, you have the following three choices:
Order a new set of checks online or from a catalog
Contact your bank and order check refills from them
Print your own checks
Let's look at each of the options and evaluate the pros and cons.
Order Checks From an Online Check Printer
Inexpensive selection: for the lowest pricing and the best variety of design choices, try an online check printing service. There are plenty of options out there, and you may even receive offers in the mail. Along with an endless selection of graphics and colors, you can often personalize your checks with a favorite sports theme or hobby. If you just want simple and plain looking checks, you can get those too – they're very inexpensive.
Photo checks: if you're really finicky about how your checks look, you may want to choose a specific photo that will appear on the face of your checks. This can be a photo that you took yourself, or another photo that you have the creative rights to use. For a check to do its job (to pay somebody), all you really need is a piece of paper with your account information on it – getting creative with the rest of the check is fine.
For more details, see How to Get Photo Checks.
Stay safe: one risk of online check printers is that you'll give your checking account information to somebody you don't know. Most printers are trustworthy and they keep your data secure, but you need to make sure you're really working with a legitimate check printer.
Stick with the big names to improve your chances. Carousel Checks, Checks Unlimited, and Deluxe are among the most popular and reputable printers (see affiliate information below). That said, anybody can get hacked, including big banks and major retailers.
Order Personal Checks From Your Bank
You can also get checks from your bank. This is probably the easiest option because you don't have to figure out where your account and routing numbers are (see: The Parts of a Check if you're curious). It might also be slightly safer because your bank already has your account information, but your bank doesn't really print your checks in-house – they'll send the order to a check printer anyway.
To get new checks from your bank or credit union, just call and let them know you need more. They may have a few design options available to you, and you're done. Orders can also be completed online with many banks.
Low hassle, higher cost: if you don't want to spend more than 5 minutes thinking about your checks, then you should simply order personal checks through your financial institution. The tradeoff is that you'll probably pay a bit more for the convenience.
Print Your Own Checks
You don't have to order checks when you run out; you can just print them yourself if you prefer.
This is the best option for control and speed – you can have your checks done today if you want – but you have to do everything correctly in order to meet bank requirements. Mistakes can lead to delays and additional fees from banks that handle your checks.
If you print a high volume of checks for your business, it may be better to order blank checks (or even checks that have your account information printed on them) as opposed to printing the entire check from scratch. Business checks often have an extra area for a description of the payment or transaction.
Our page on how to print your own checks covers the details and lists some of the challenges you might run into. You'll need to invest a little bit of time and money, but you can save money and get as creative as you want with your check designs.
Use Fewer Checks
Imagine if you never had to order checks again. You don't enjoy this, do you?
If you set up electronic payments with your creditors, service providers, and vendors, you probably won't run out of checks for a very long time. See if you can use online bill pay to make your life easier – it's free with most checking accounts. As an added bonus, you'll have an electronic record of every payment (including the payee name, in many cases) in your bank transaction list. As a result, you wont' need to manually track payments from your check register.
What about writing checks when you shop? You can spend the same money if you use a debit card, and you might even speed through the self-checkout line when you pay with plastic. For even more safety, use a credit card instead of a debit card (but pay the card off every month).
Other Types of Checks
Now you know how to order checks for everyday use, but what about special occasions?
Counter checks: you might need to write a check when you first open your account (or while you're waiting on an order of checks to come in). In those cases, ask your bank if it's possible to get a few counter checks printed. These checks are not always accepted by financial institutions, but they can help you in a pinch.
Cashier's checks: for large, important transactions, sellers often demand a "guaranteed" form of payment. Wire transfers and cashier's checks are often used for a down payment on a home or the purchase of a vehicle. These checks can cost $10 or more, but they are essential in some cases. Cashier's checks can be ordered online (at some banks) or purchased in a branch. Learn more about cashier's checks.
Affiliate Disclosure
Some of the links in this article are affiliate links. If you click on those links, the publisher and/or author of this article may receive compensation from a vendor. We strive to provide quality resources to reputable vendors, and you'll get the same pricing you'd get if you visited the vendor on your own, but you should know that affiliate links exist and they are present on this page.