How to Manage Health Care With The RV Lifestyle
Use these 7 steps to manage health care while on the road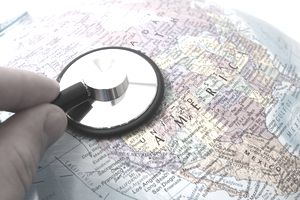 Health care concerns can easily be managed while on the road living the RV lifestyle.
Yes, I know the health care game has become so complicated that this subject strikes fear in the hearts of even the bravest when thinking about traveling and living the RV dream. You naturally have worries about daunting paperwork, needed tests, rising costs, possible limitations, and the nagging feeling that the money may run out before you do.
Have hope! It may surprise you to know that many travelers facing health challenges immediately start to improve after a few months on the road. This lifestyle does that to you! It creates that stress-free, independent relationship with nature that heals.
Managing health care needs on the road is just a matter of understanding a few fundamentals and responding to each situation as necessary. Some travelers simply cycle back to their doctor's zip code when an exam is scheduled; others find new doctors in their current location.
It does take patience, confidence, and planning to smooth out the wrinkles. Planning is an important part of living life on the road anyway, and it is even more important when managing your health care needs. To get you started here are seven ways to plan for your health care needs before heading out on the road.
1. Stay Organized. Before you begin your first RV adventure, sort through all your medical records.
Make copies of current blood tests, scans, and reports. Put these in a large, flat envelope for easy portability. Label the envelope with your name and a title, such as "Medical Records – Copies".
2. Research Health Options. Talk to your doctor to find the most pertinent information about your medical condition.
This is important to provide peace of mind. Save this information to the hard drive on your computer. This should include information on the drugs prescribed by your physician. Ensure that none of the fillers in the drug(s) create an allergic reaction (such as, magnesium stearate, lactose and preservatives). Hear are a few online options you can use to further your drug information research:
3. Keep a Health Calendar. It is vital to keep a health calendar (electronic and/or paper), with all the important dates entered at least six months ahead. As the date for the doctor's appointment approaches start looking at the options near you at the time. You'll also want to put the insurance enrollment periods on your calendar (in case changes are required), understand the exceptions, and provide timely paperwork. These things will all help to lessen frustration and save you money.
4. Make Sure You Have a Travel-Friendly Health Plan. The best health insurance plan for travelers over age sixty-five is Original Medicare. This federal insurance follows you wherever you roam, unlike the newer Medicare Advantage plans. Even though the Medicare Advantage plans may be cheaper or provide better coverage, that coverage changes (or disappears) when you leave your original zip code.
There are few exceptions to this limitation.
Keep in mind Original Medicare insurance does not cover any drug prescriptions. If you are currently on a prescription drug, or just planning for the future, visit one of the SHIP -- State Health Insurance Assistance Program offices or HealthSherpa.com to get help online finding a supplemental plan.
5. Find New Doctors When Necessary. Finding a physician can be a time consuming process but there are several tools on the internet that can help. You can check physician backgrounds through these free sites:
6. Maintain a Healthy Diet. It is easy to eat healthy on the road. In the summertime, at every bend in the road is a Farmer's Market or local produce stand. In the wintertime, pick up organic produce at the neighborhood supermarket or health food store.
Most travelers prepare their meals right in their RV after purchasing the food locally, sometimes parking free right next to the food source for a few days.
7. Have Fun. This may be the toughest assignment! After the stress of the daily commute, and all the surrounding components connected with everyday working life, slowing down and enjoying life takes some adjustment time. Give yourself at least one year to make the change to the RV lifestyle.
Start thinking about your future adventures now, take the needed steps to manage your health care needs and head out to have fun!
This article comes to us courtesy of Margo Armstrong, who spent most of her professional life writing documentation for high-tech corporations. Now semi-retired, she continues to travel the USA in her motorhome. Margo's blog, MovingOnWithMargo.com, follows all things related to the RV lifestyle. Her website, RVLifestyleExperts.com, contains hundreds of topics important to those interested in living the dream. For more information on health care and the RV lifestyle, see her eBook, Health care & The RV Lifestyle.