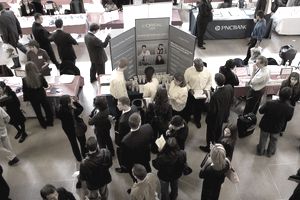 Whether you are a freshman looking for a summer internship or a senior looking for their first job, career fairs can be intimidating for anyone. Although they can be scary, if prepared for, they can be extremely beneficial. Here is a walkthrough of the weeklong preparation that will help you to make the most out of your university's career fair:
One Week Before
Visit Your Career Office - Most universities the week before career fair will host an open house for students to help prepare them for the big day. The career center offers services such as career workshops, one-on-one career advising, resume review, and mock interviews.Sign up for a mock interview a week before the career fair. Some employers may interview you on the spot. By conducting a mock interview, you will prepare yourself for any spur of the moment interviews. Discuss your career goals with an advisor as they may point you in the direction of some companies that are attending the career fair that you have not considered before.
Research the Companies - If the attending companies are not listed on your university's website, call the career center to ask them for the companies that will be in attendance. I recommend making a list of 5-10 companies that you'd be interested in talking to the day of the career fair. From there, go online and conduct some research on the company's websites. Look for information such as the companies mission and values to get a better sense of what the companies are all about. After your research, you should have a solid list of potential companies you would want to talk to and could potentially work for after graduation.
A Few Days Before
Perfect Your Elevator Pitch - Perfecting your elevator pitch is very important, as your first impressions with these recruiters are crucial in landing an interview. Your elevator pitch should include your name, major, eligibility for work/graduation date, what kind of job you are looking for, and three key traits about yourself that are relevant and important to the industry. Get creative with your pitch, as it will help you stand out from the crowd of potential candidates.
The Day Before
Dress Your Best - Lay out the outfit of your choice the night before. Do this to ensure that everything fits and whatever needs to be ironed gets ironed. Most schools require business professional attire so make sure your outfit for the fair is appropriate for the occasion. Ladies, It may sound silly, but make sure your nails are free of any chips!
The Day Of
Don't Be Afraid to Share Your Dreams - Most of the time, you and the recruiter will slip into the conversation of what your future career goals are. Don't be afraid to share your dreams in your industry, as details in your conversation will stick with the recruiter and make it easier for them to remember you when you follow up.
Be Willing to Go With the Flow - It may surprise you that there are companies there that you have not researched that interest you. If that happens, go up to their table anyways. When talking to the recruiter start out with your elevator pitch and then ask the recruiter more questions about the company so you can get a better understand of what they are all about. Being flexible at the career fair expands your opportunities.
A Week After
Follow Up - If you received a day-of-interview or gave your business card out to a potential employer, send them a quick follow up email. Follow-up emails are a helpful reminder for busy recruiters!
Best of luck making the most out of your universities career fair!