How to Make Money Flipping a Short Sale
You Can Make a Profit Flipping a Short Sale Without Risking Jail Time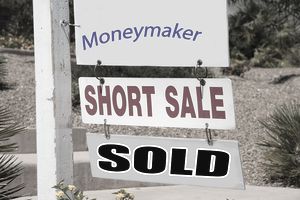 Ever since 2005, buying short sales is a hot topic in many real estate circles. Today, many investors want to know how to make money by flipping a short sale. Many eager entrepreneurs tried to find ways to profit from short sales and, either in their dishonesty or ignorance, are breaking the law. Some of these real estate investors know they are crooks and don't care, while yet others will vehemently defend their right to operate in a stupid and unlawful manner.
You don't have to resort to breaking the law in order to flip a short sale.
How to Make Money Buying a Short Sale to Flip
First, realize that the HAFA short sale program prohibits resale or flip of any property you buy as a short sale for a certain time period. Even in a traditional short sale, the bank might present you with a restrictive agreement, which you will sign and agree to that prevents an immediate resale. Therefore, if you plan to flip a home, plan on holding it for a while.
But don't despair. Ordinarily, you make a few repairs to the flipper short sale right after closing, especially since they are sold in AS IS condition. That could take a few weeks to a month or more. Than, you'll probably pay to stage the home and put it on the market. By the time a buyer makes an offer and enters into escrow, your closing period could take another 30 to 45 days. So the restriction might not matter to you.
Consider a Preappoved HAFA short sale.

A preapproved HAFA means the bank has already established the price for that short sale. Many banks price short sales based on the opinion of an agent they hire to produce a fast and cheap appraisal called a BPO. The banks don't ask the listing agent for an opinion of value. Because of this practice, it is not unusual for a Preapproved HAFA short sale to be listed under market value. Look for these gems when flipping a short sale.

 
Look for a Short Sale With Long Days on Market

Since the idea is to buy low and sell high, you want to pay as little as possible for a short sale. Prices for short sales are all over the map in some towns. Sometimes the bank grows weary of starting the short sale process only to watch the buyer walk away. If the home has been on the market for a long time, the bank might be more willing to wheel and deal.

 

Target Homes in Foreclosure Near Auction

It costs money for banks to foreclose. If the bank is open to a short sale, that means it will make more money doing the short sale than doing a foreclosure. If the date for the trustee's auction or default sale is very close, banks will sometimes make last-minute deals and postpone the auction. Those last-minute deals can be very profitable for an investor flipping a short sale.
How to Make Money Without Flipping the Short Sale by Renting the Home
There are a large number of companies online who have worked out all sorts of sneaky ways to break the law. Some insist that the homeowner deed the property to the company or a holding company. Then, that company negotiates with the bank. Do these companies comply with federal and state disclosures?
Probably not. I don't suggest this route.
Others try to make themselves the middle man by double-escrowing the sale. They do not understand it is considered short sale mortgage fraud to conceal information from the short sale bank. Yet, they do it anyway. They arrange to buy the home from the seller, and they also demand to handle all of the negotiations with the seller's bank. That is a huge red flag for sellers. Sometimes they offer to rent the home back to the seller, but most banks require an arm's length affidavit that prevents it.
Buy a Short Sale Fixer Home

Short sales are typically sold in an "as is" condition. This means the bank will not make any repairs nor authorize the seller to make repairs. The bank rarely sends a contractor to inspect the home and instead relies on the BPO agent's report. BPO agents are not general contractors. The BPO might greatly exaggerate the amount of money it will take to fix up the home.

 
Submit Repair Bids With Your Short Sale Offer.

The bank will want to see what's wrong the home and how much it will cost to fix it, even though it won't allow repairs. Almost every home needs some type of repair. From this, the bank will set value. The bank will choose the lowest bid, so make sure the lowest bid is a bid from which you can make money on before buying the short sale.

 

Show the Home for Rent Upon Short Sale Approval.

Since the seller owns the home and not the bank, you might get written permission to show the home for rent after the bank issues its short sale approval letter. That way a tenant could be ready to move in to the home on the day it closes. Remember, rent is paid in advance. Your first mortgage payment won't be due for at least 30 days or more.