How to Make a Safe Room Within an Existing Structure
Options to Consider When Building a Safe Room its Impractical.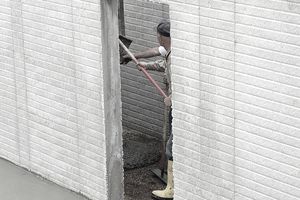 A safe room can be very expensive to build and even more challenging to design when there is no room available. Sometimes the only option is to retrofit an existing space providing that safe area within the structure. 
Best Areas for a Safe Room
Considering a traditional structure, corridors are always considered as the safest areas of the structures, because roof heights and they are normally free of obstructions.
 However, ti might be challenging to storm proof a hallway because it might contain many doors and openings that shall be prepared to become air tight. Other areas that can be considered as potential safe rooms are offices, workrooms and lounges but they might be ale to withstand the impact of a 15-lb design missile at 100 mph.
How to Retrofit Areas as Safe Rooms
 The following plan shall be put into effect to retrofit certain areas so they can be considered as safe-rooms.
Replace existing doors, including door hardware vulnerable to fail after a missile has impacted them or susceptible to fail under tornado force winds with metal doors.
Wall sections or glazing unable to withstand tornado winds or missile impacts shall be replaced with wall sections that meet code criteria, ICC 500-2014: ICC/NSSA Standard for the Design and Construction of Storm Shelters.
Use or install metal doors, impact-resistant glazing or shutter systems that meet building code standards.
Walls can be modified or recessed  to protect existing doors from the direct impact of flying debris, 
Safe Room Retrofitting Mistakes
When you are trying to retrofit an area to bring up to storm resistant standards, you need to avoid these pitfalls:
Check that the budget is enough to complete the project
Double check walls and openings, as these might always be the weakest points and sometimes the protection might not be good enough.
Do not retrofit a door or window if the wall is not able to withstand wind load or flying debris.
Check that the roof is not design to act together as a whole. Roof can be retrofitted in a specific area to provide adequate protection.
Unable to protect equipment installed at the roof such as vents, skylights and others.
Areas that are unable to withstand wind pressure such as load-bearing and non-load-bearing walls
Not using shutter systems and doors rated to meet FEMA 320 and 361.
A system that encourages using manually installed shutter might fail as time will not be sufficient to have them properly installed.
Not securing a door with at least six points of connection. Ideally a good system must have three hinges and three latching mechanisms
Door frames constructed of inappropriate thickness. Door frames should be constructed of at least 6-gauge metal and adequately secured to the walls to prevent the complete failure of the door/frame assemblies
Never consider to use a mechanical room as a safe room area unless it is life threatening situation
Always try to avoid storage areas that are small in size when compared to the amount of persons using the safe room.
Not verifying that all material and building components meet ICC 500-2014: ICC/NSSA Standard for the Design and Construction of Storm Shelters or more restrictive code regulation.