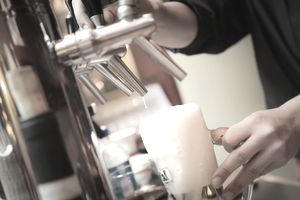 Similar to a wine tasting, a beer tasting (or beer dinner) is a great way to get customers in during slow seasons at your restaurant. A restaurant beer dinner mixes great beers, generally microbrews or other artisan beers, with a prix fixe menu. Restaurants can sell tickets or take reservations to their beer dinner. Just make sure your kitchen can handle feeding a large crowd all at the same time.
Difficulty: Average
Time Required: A few weeks for planning and promotion
Here's How:
Contact your beer distributor. Beer tastings don't usually feature Old Milwaukee or Budweiser. They most often are used to showcase micro-brews and other artisan beers. If your restaurant carries a micro-brew line, such as Shipyard or Samuel Adams, you can feature those beers. Or you can look for a new line of beers by local brewers. Either way, your beer sales rep can help you select the brews you want to feature.
Plan you menu. Once you selected the beer, decide on what dishes would go well with your beer menu. You should have a course for every beer selected.
Plan you budget. Look at your food cost and liquor cost and set your ticket or dinner price. The price per person should be about the same as it would cost to eat dinner at your restaurant, perhaps a tad higher. But since many of the people who would be interested in going to a beer tasting are already customers, having a pricey beer tasting dinner may turn them off from attending.
Advertise your beer tasting dinner. Take of advantage of the captive audience you have each night with your customers. Place ads for your beer dinner in menu inserts and table tents. Post signs in the bathrooms and entryway. You can do a traditional print ad campaign in the newspaper, but don't forget to promote your beer tasting on sites like Facebook and Twitter.
Set up your dining space. The set up for your beer tasting will depend on the size and design of your restaurant. You can set up long tables and have everyone sit together. Or you can try and accommodate individual reservations. Keep in mind that a beer tasting should be a social event, so having people sit with strangers may not be a bad thing.
Go over the game plan with your staff. You staff should know the beer tasting menu, in case customers have questions. They should know all about the beers – such as the difference between a lager and stout, and how the beers you are serving are unique. Make sure to include your brew master or beer rep (whoever will be talking to guests about the beer) in the game plan, ahead of time.
Include customers in the conversation. Once your beer tasting is underway, your beer master or host, should circulate with guests and answer questions they may have. People who attend a restaurant beer dinner, most likely, love beer. And they want to know more about how the beer is prepared. Don't just pour and run.
Ask for customer feedback. Leave comment cards or post an on-line survey about the beer tasting event. Find out what they liked and what could be improved on for next time. This is also a great way to collect email addresses for more social marketing.
What You Need:
A beer master or other person knowledgeable about beer making
A Facebook andor Twitter account for your restaurant
A large enough dining space to accomdate a beer tasting