How to Handle Your Regular Meeting With Your Unemployment Officer
How to Prepare for a Meeting With Your Unemployment Office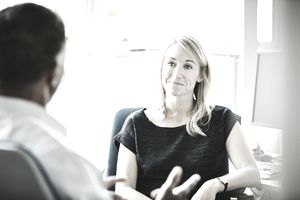 In some states, unemployed workers may be required to meet with unemployment department representatives to receive help with their job search and/or re-employment assistance.
If this happens to you, the first thing to do is, don't panic. In many cases, it's a routine meeting designed to assist with your job search and not put your job search under a microscope. The most important thing to remember is that you'll need to bring records of your work search if you are required to apply for a certain number of jobs each week.
How You Will be Notified Of the Meeting
If you are required to attend a meeting, you will most likely get a letter similar to the one below from your state unemployment office:
We would like to extend our assistance in helping you get back to work as soon as possible. In order for us to properly assist and guide you, we have scheduled an appointment for you on (Date/Time).
Your meeting may be an individual meeting or a group meeting with other unemployed workers. Either way, it's important to prepare in advance so the counselor knows that you are completing all your unemployment eligibility requirements.
How to Handle a Meeting With Unemployment
Review these tips on handling a meeting with an unemployment representative so you're prepared in advance.
Show Up. If you are invited to a meeting, attendance is mandatory. Unless you have a legitimate reason for not going (e.g., illness), you may jeopardize your unemployment benefits if you don't show up.
Rescheduling. If you need to reschedule your meeting, do so as soon as possible. All the contact information you need to reach the right person at the unemployment office will be on the letter you receive. If not, contact your state unemployment office for information on rescheduling.
Be on Time. Arrive a few minutes early and be prepared to go through a security line in order to enter the office.
Dress Appropriately. Dress as though you were going to work or going on a job interview. Don't wear sweatpants, jeans, or other casual clothing. It's important to show that you are serious about finding a new job.
Have a Work Search List. Bring a list of the jobs you have applied to and information on how you applied for each position (i.e., online, email, in-person).
Bring Your Resume. Bring a copy of your resume or you may be assigned to a resume writing class.
Pay Attention. Pay attention to your counselor and the suggestions he or she gives you. Don't interrupt them when they're speaking and be sure to say thank you after the meeting. If you find yourself in a group situation, don't monopolize the conversation.
What to Disclose
It's important not to disclose too much information. There's no need to mention other activities you are doing while you're unemployed because you don't know how it will impact your unemployment claim. For example, if you mention that you've been shoveling your neighbor's driveway, they may wonder if you're being paid for that and why you didn't report the income. Focus on your job search and the fact that you're seeking full-time employment.
What Else You Need to Know: What Happens if an Employer Contests Your Unemployment Claim
Suggested Reading: