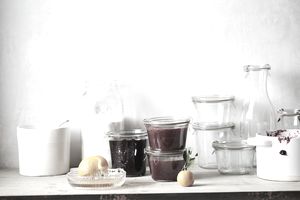 Cookbooks are generally more expensive to produce than novels or most other non-fiction because they generally require at least some full-color photographs. Food photography — and printing full-color images — drives up the unit cost of the book and the higher price and (often) lower author royalties reflect that.
A Professional-Looking Cookbook Requires Pro Food Photography
And while a great smartphone food photo is within the reach of many, for maximum visual appeal to readers as well as adherence to high four-color printing standards, the work of a pro photographer is required.
So how do you keep costs in check when high-quality of professional food photography is a necessity in order to appeal to today's visually-oriented cookbook readers?
For the benefit of aspiring cookbook authors, Evi Abeler, food photographer, and Food Photography expert, graciously agreed to "cross over" to Book Publishing to provide insights into the costs of food photography and to suggest efficiencies and strategies to keep down the cost of a cookbook shoot.
What Does A Day of Food Photography Cost?
Valerie: Evi, can you give readers a rough range of what a day of shooting food costs?
Evi: That is a tough question, it does all depend. If you are styling and shooting it all yourself, in your kitchen you might get away with just the food and prop costs. If you are hiring a top food photographer, a full team, and a studio in New York City you are easily looking at $8000 a day to accomplish 10 recipes.
And then there is everything in between.
What Can Authors Do to Keep Down Food Photography Costs?
Valerie: What are the biggest factors that affect costs? What can authors on a tight budget do to keep their costs controlled / avoid unnecessary waste of time, etc.?
Evi: Lots of things affect cost – such as number of photos.
Here's where a cookbook author can save money on photography.
Think hard about the food photos your cookbook needs. Do all your 150 recipes need photos? Maybe you pick the key ones for each chapter and make them stunning. Talk to your publisher, editor, and photographer about what really needs to be photographed.
Minimize food and prop costs with a little ingenuity. You will need double or triple of the amounts in the recipe just in case a second batch needs to be prepared – so food costs add up. Get creative in your thinking about ways you can keep the food costs down. Maybe you can contact a few food brands, farmers, or markets and ask them for samples or sponsorship. While you want the best looking and highest quality ingredients, there are ways to "cheat". Discuss food costs with the food stylist, they will come up with brilliant ideas. Same goes for the props, there are items that you can buy and return and others where you should make an investment. Discuss prop costs with the prop stylist.
Call in favors from friends. Do you have a friend with a glorious kitchen and a light filled dining room or open loft? Would they be willing to move out for a week? I am not kidding, studios are expensive, especially in the large cities. Some food photographers or food stylists have their own studios, which can keep costs down too.
Partner up with talented people. Do you know of a professional who has the inclination to want to shoot your cookbook for shared credit and shared royalties?
Be as prepared as possible and know what you want! Make sure the recipes are sound —  test the recipes well in advance. A few weeks before the shoot walk through the recipes with the stylists and photographer and discuss process, styling, and propping. Everybody should be on the same page and know what's coming. It's ok to make small adjustments on set, but every re-shoot or alteration will cost time and money. 
Read food photographer Evi Abeler's Q&A with Valerie about how to plan a cookbook photo shoot and Valerie's article on what cookbook details to review at before you talk to your food photographer.