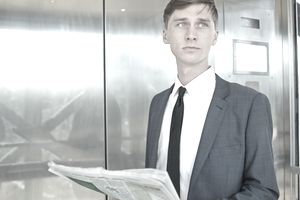 Careers in journalism include a wide variety of jobs working in large metropolitan and national newspapers, broadcast stations, and magazines, as well as smaller local publications where many entry-level positions exist.
Difficulty: N/A
Time Required: Varies
How to Get Started in a Journalism Career
Do you Have What it Takes?

Journalism can be an exciting career for someone interested in gathering, reporting, and analyzing information and putting it in a format that is understood by others. It is a competitive field that has changed dramatically over the last few years and is expected to continue changing as new technology is introduced.

Careers in journalism require people who are independent, flexible, creative and highly innovative. To be able to capture that next breaking news story also requires successful journalists to be aggressive. Some jobs also require fluency in a foreign language.
Additional Requirements

Careers in journalism require a strong command of the English language as well as highly developed writing skills. Additional courses that provide a good foundation for careers in journalism may include: computer science, business, history, sociology, political science, economics, and psychology.

Working in the field of journalism requires excellent word-processing skills while computer graphics and desktop-publishing skills are also useful as well as photography skills since many entry-level positions combine the responsibilities of reporter and photographer.

Gaining Experience in Journalism

Jobs in journalism at large metropolitan and national newspapers, broadcast stations, and magazines are often very competitive. Most employers prefer individuals that have a bachelor's degree in journalism or mass communications. Practical experience gained at school newspapers or broadcasting stations as well as internships with news organizations are critical requirements to get hired in this field.
Additional Experience

A graduate degree may be helpful for those looking to advance in the field. There are a number of master's and Ph.D. programs available in journalism. A graduate degree can be used for those interested in attaining jobs in high-level news careers, education, researching, and advertising and public relations. A graduate degree may help those looking to advance in the field.

The American Society of Newspaper Editors(ASNE) offers some good suggestions for finding your first newspaper internship or job.
Some of the Challenges of Working in Journalism

Working hours usually vary and can be very hectic. Last minute news reporting requires long and irregular hours. A job in journalism often includes many demands and a great deal of pressure to complete last minute assignments in record time. Journalists covering some stories such as political uprisings, wars, fires, and weather-related events can often be dangerous as well. Depending on the job, frequent travel may also be required.

Top Sites for Finding Internships and Jobs in Journalism

Journalism is an exciting and competitive field requiring perseverance and some aggressiveness by those hoping to become successful in the field. Here are some top sites for finding internships and jobs in the field of journalism. Employers seek qualified candidates with relevant experience when making their hiring decisions. Completing several internships in different publications will increase the chances of getting hired as a full-time employee.

Entry-level Positions in Journalism

Most entry-level positions are available at small broadcast stations and publications.

Careers in Journalism

News Analysts (news anchors, newscasters), reporters, editors, weathercasters, sportscasters, news correspondents, commentators, columnists, news writers
Additional Resources for Finding Internships in Journalism

Vault Guide to Journalism and Information Media
Publication Date: February 2005
Vault Guide to Media and Entertainment
Publication Date: January 2003

Professional Associations and Organizations