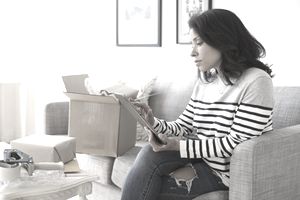 When eBay first started, the system is quite different than it is now. Buyers sometimes send their payments in cash though the mail and sellers shipped items any way they felt like it. Sometimes packages had a bunch of postage stamps on them and tracking wasn't used at all. Your package arrived when it arrived and there wasn't any recourse for lost packages. 
Today the system is much more evolved, efficient, and tracking is accessible through the buyer's eBay account.
All shipments from sellers must have tracking or the seller's metrics are affected. Here the details for how to track your eBay purchases from the time of the purchase up through delivery.
Where to Look for Tracking Information
eBay makes it easy to find tracking information. In most cases, eBay purchases are shipped USPS. Follow these seven steps on the regular eBay site:
Go to My eBay
Navigate to Purchase History
Find the item in question
Under the item is a green shaded area
The tracking number is inside the green shaded area
Click the tracking number
The complete tracking history will be displayed including ship date, out for delivery, processing locations, and out for delivery
On the eBay mobile app:
Navigate to purchases
Click on the item in question
The basic tracking details will be displayed
Click "more tracking details" to see the complete list of every step in the tracking process
How Long Does Delivery Take?
The time period for delivery varies based on how the seller has her shipping set up, handling time, and the shipping method you selected when checking out.
Handling time is the number of days it takes for the seller to put the item into transit, in most cases, ship with USPS. It is important to pay attention to a seller's handling time. 
To achieve Top Rated Seller status, sellers must ship items in one business day. While Top Rated is an admirable status, many sellers cannot promise 1 day handling due to certain constraints.
For example, if a seller also works a full-time job and travels, he may be away from his inventory and not be able to ship every day.
Make sure you pay attention to the handling time on a seller's listing before purchasing. Some buyers don't care if it takes a while for the item to be delivered, but in other cases, time is of the essence if the item is a gift, for a vacation, or for some other reason where there is a deadline. Some sellers extend their handling time if they are going on vacation or have a family emergency or life interruption. Sellers may increase handling time so they don't miss sales, rather than put their store on vacation mode. 
What If the Item Doesn't Arrive
Sometimes mail is misdirected and delivery is delayed. If you don't receive your item, the first course of action is to check the tracking information. Check and see if the item is stuck at a certain location for a few days. That could be a clue it is lost.
Sometimes mail is misdirected and goes clear across the country or to a far away state when it isn't logical to do so. The USPS can be a little wacky sometimes. Usually, misdirected mail will make its way back to the proper destination. Be patient.
If your item doesn't arrive in a reasonable amount of time, contact the seller through the eBay messaging system.
Always communicate with the seller through the eBay messaging system, because if there is a discrepancy or issue, eBay can see all the correspondence and help you work with the seller. Contact your seller and explain that the item hasn't arrived and it should have by now.
The seller can file a claim with the USPS or whatever carrier was involved. It is the seller's responsibility to refund your money or find the package. This is why tracking exists — so that packages don't get lost. The seller must do the legwork to located the missing package or refund your money. If the seller does not set up and resolve the situation, contact eBay customer service and ask for assistance. eBay can force a refund from the seller's Paypal account and credit yours. 
Updated by Suzanne Wells on April 25, 2017.