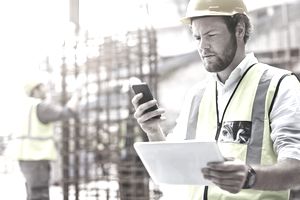 Are you finding it harder lately to secure good leads on well-paying contracts? You're not alone.
The fact is that many construction companies are facing a real shortage of quality leads. It wasn't long ago that the average small, medium or large construction company had work lined up months or even years in advance. In recent years, however, the game has changed considerably and it is important for you to know how to go about tracking down and securing quality leads.
Major Roadblocks
Remember when all you had to do was allocate the appropriate funds to your marketing budget and use a few tried and true methods to secure jobs? That doesn't happen much anymore, does it? 
The old ways of doing things are beginning to really show their age. We live in a world now where every company – not just construction businesses – needs to re-align their marketing to reach more prospective clients faster.
If you're still relying on print ads and traditional media to get your message out there, you are clearly missing out on the best leads. These days, you need to have a strong online presence so potential clients can find you and you need to be aware of the tools that exist to help you seek out the right projects for your company. 
Your Website and SEO
For starters, does your company have a well-designed, up-to-date website that is easily viewable both on desktops and laptops as well as tablets and smartphones?
This is called responsive design and it is vital that your site is designed with it in mind. If you haven't overhauled your site in the last few years, it's definitely time. If you don't have a website, it's time to launch one and have it designed professionally. 
Whether you are overhauling an older website or starting from scratch, you will also want to seek the help of an SEO (search engine optimization) company to help optimize your visibility and reach.
Good SEO helps your site rank high in search engine queries and this is especially important if you work within a small radius. You want clients in your area to be able to find you without scrolling through pages of listings because, frankly, they just won't do that. If your site isn't on the first page of a Google search, the odds of anyone ever finding you is slim. 
Construction Bidding Websites
Did you know that there are hundreds of networks out there where you can search for leads that fit with the capabilities of your company and its members? A quick Google search brings up a huge list of sites, some of which are free to use while others are premium services that offer a wider array of leads with more comprehensive listings so you can find the perfect matches for your company. Here are just a few of the options that exist:
Referral Websites
While word of mouth still goes a long way and can land your company more work, even that has gone digital in the form of referral and review websites. Referral websites such as Angie's List can be a huge asset for your company, provided it has a proven track record and a good reputation for things like quality of work, meeting budgets and deadlines, etc.
Some sites have strict criteria that your company needs to meet to even get listed in the first place, much less recommended. 
All that said, more potential clients these days are looking to referral sites than to partners and colleagues for advice on who to hire. Once they receive a bid from your company, you can be certain that they are doing their homework on you and they're doing it online. Sure, they're going to check references and review past jobs but the bottom line is that we now live in a world where the words of a stranger on a referral and rating site carries more weight than anything else so be sure your online reputation is where it needs to be if you want to secure the best leads. 
The key takeaway from all of this is that you have to make it easy for clients to find your company and you need to make sure that what they find is a clear and accurate representation of it.
That, coupled with a few good online tools for finding the jobs, will go a long way in helping you secure a steady flow of good-paying projects for years to come.