How to Customize Your Real Estate Sale Sign
Custom for Sale Signs Show Buyers What They Can't See From the Curb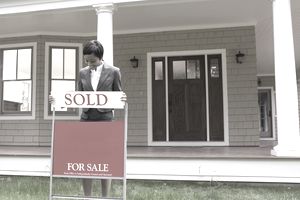 What you put on a real estate sign is one way to set yourself apart from competitors while serving the buyer and seller. You can use the sign to show them what the property offers that they can't see from the curb.
You can differentiate yourself from the competition in ways other than shouting "I am the greatest" or just bragging about being top performer last May. There is some value to the self-promotion marketing, but the average buyer and seller want to know "what's in it for them."
I realize that your broker, and the franchises, have strict rules for signage, so you may not be able to follow my advice here. However, ask them if you place their required sign if you can plant a custom sign like the one discussed here as well. It's a version of a rider, just bigger and not attached to the sign. It's worth asking the question.
Use the for Sale Sign to Show What They Can't See From the Curb
Let's think about what the drive-by potential buyer can see, and what they can't. They can't see the backyard or the pool, nor the awesome interior. Sure, you can give them a link or way to get to the listing online and see the images there, and you want to do that.
However, when there are some amazing features about the home that are not visible from the curb, why not preview them on a sign? When we know that you only get one chance for a first impression, why not make the best one you can?
It could make the difference in whether they do go to your website to see the photos or not.
What Photos Are Best on the Real Estate Sign?
So, what do you put on the sign, as you have limited space, and you want photos large enough to impress? The awesome backyard pool or deck and garden are probably obvious things to show.
Take the image with people enjoying the deck if the owners will do it, or use fellow agents. However, what's inside that is impressive and grabs attention? When you're photographing the home, think about what you would want to bring to the attention of buyers.
That gourmet kitchen with the commercial range is probably a good bet. A tip, though: get the owners to get a meal cooking and take the photo with it on the stove. Show them preparing a meal. It there is a professional hood over the range, maybe do a flambe. That flaming pan grabs attention and illustrates the quality of the range and the hood.
You never know what will be the hot button for a buyer, but good bets are a great garage workshop or a professionally outfitted large master closet. Perhaps custom kitchen cabinets with a lot of those built-in rotating and slide out shelving options. Virtually any home feature that you would consider important to feature in a brochure is a candidate for an image on this custom sign.
If there are enough obvious amazing features that will appeal to both husband and wife, then you've got it made. However, if not, then split your images to provide something of interest to each of them. The garage workshop and the custom cabinet system may get immediate interest from both and a trip to the website for more information.
You're Not the Feature Buyers Want to See
When you take a listing, the client is expecting one thing. You're going to get their home sold and hopefully at a suitable price. Putting a sign out front with a big picture of you isn't going to do anything to sell the home. Placing a custom sign like the one here will. They will see that you're serious, and your credibility and future referrals will improve.
In one of my listings, the sellers asked to keep the sign to remember their home. I guess it's still in their new garage. It's a stunning yard display in full color, and not as expensive as you may think. You design it completely online, just use high-resolution images. I designed this one at BuildASign.com, but there are other custom sign companies you can check out. Present your listings in every best practices way that you can to get them sold fast.