How to Create a Custom LinkedIn Profile URL
Create a LinkedIn URL that Promotes You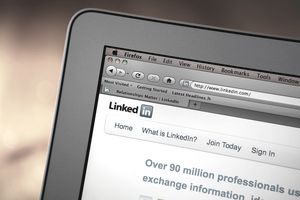 Updated May 2016 Leslie Truex
For home business owners and freelancers, LinkedIn offers a tremendous opportunity to promote your business, network with influencers, and build your online presence. However, when you initially join LinkedIn, you're given a long, difficult to remember profile URL.Fortunately, you're allowed to create a custom URL for you LinkedIn Profile that can make it more recognizable and easier to use.
By customizing your URL, you'd change: 
http://www.linkedin.com/in/joeblow/5/792/58a
to something like:
http://www.linkedin.com/in/freelancewriterohio
or just:
http://www.linkedin.com/in/joeblow
Why You Might Want a Custom LinkedIn URL
There are several reasons to create a custom URL in LinkedIn. One is for search engine optimization (SEO). Search engines, including Google, use keywords within a URL in helping it decide what to deliver in search results. A URL of http://www.linkedin.com/in/freelancewriterohio would have a better chance of ranking well in Google for a search using the keywords "freelance writer ohio" than would the first URL of http://www.linkedin.com/in/joeblow/5/792/58a.
Another reason is ease of use and recognition. Having a line of numbers at the end of a URL looks messy and difficult and is therefore more likely to be ignored. Whereas, a URL with your or your business' name at the end will be clear what its linking to.
While LinkedIn URLs aren't as straightforward as they could be, the customer URL is still easier to remember than the default one. 
Choosing Your Custom URL Profile Name
You have a few options in creating your custom URL. One is to use your given name, such as Joe Blow. The other option is to use your business name.
Finally, you can use a combination of the two, such as Joe Blow Freelance Writer. Some things to consider when deciding what to use include:
What are you branding? Do you want you or your business name to be the focus of your endeavor? 
How easy is it to use? While combining your name and business allows you to use both, it also created a long URL that can be difficult to use if people have to type it in (i.e. off of a business card).
Will your name change? Traditionally, this is more of a problem for single women who get married and decide to take their husband's name. However, I've seen many couples hyphenate both their names, in which case, it impacts men, as well.
You are allowed to change your LinkedIn customer URL up to five times in a 180-day period; however, this is not advised. First, changing your URL means you have to update it everywhere you used the old URL. People with the old URL will have difficulty finding you. Finally, after 180 days, someone else can use your old URL, which could potentially lead your clients and customers to the other guy.
How to Create a Custom URL for a LinkedIn Profile
The instructions below work on your public profile.
Log into LinkedIn.
On the main menu bar at the top of the page, hover over Profile with your mouse and select Edit Profile.
Hover your cursor over the current profile URL under your profile picture. The settings icon will appear next to the URL. Click it.
On the right hand side of the page, you'll see a section that says, "Your Public Profile URL." Click on the edit icon next to it. 
In the edit box, type the custom name you'd like in your URL. You can have 5 to 30 letters or numbers, but no symbols or special characters. Your custom name is NOT case sensitive, so JoeBlow and joeblow will both work in the URL. When you're done, click Save.
If your custom URL isn't already in use, you're all set. If it is in use, you'll need to submit a new custom URL.
Be sure to update your new LinkedIn URL on your website, blog, and other marketing materials.
This article is part of The Ultimate Guide to LinkedIn.