How to Complete the Easier W-9 Form
Form W-9 for Independent Contractors and Other Non-Employees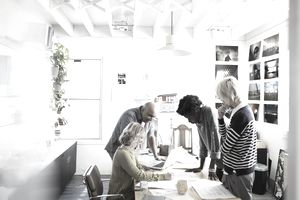 What is Form W-9 and how do I complete it? What makes it easier? 
In this article, a discussion of the W-9 form and why the new form is easier to use. It's easier because the designation for different types of businesses is easier to figure out. 
IMPORTANT: The deadline for filing 1099 forms with the IRS has been moved up to January 31, beginning January 31, 2017, for the 2016 tax year. So, be sure to get W-9 forms in plenty of time to give them to the individual and also file with the IRS by the deadline.
This article explains more about the new earlier 1099 filing deadline. (This new earlier deadline also applies to filing W-2 forms with the Social Security Administration.)
IRS Form W-9 is subtitled "Request for Taxpayer Identification Number and Certification." Form W-9 records the taxpayer identification number for workers who are not employees. The form also records the certification of the person completing the form that: 
1. The taxpayer identification number is correct. The taxpayer identification number can be a Social Security Number or Employer Identification Number (EIN) for a business.  
2. The taxpayer is not subject to backup withholding, Backup withholding is required withholding by employers for individuals who have not included a valid taxpayer identification number on Form W-9. Backup withholding is implemented at the rate (currently) of 28%. 
3. That the person is a U.S. citizen or "other U.S. person" and 
4. That any FATCA codes on the form are correct. FATCA (Foreign Account Tax Compliance Act) reports are required of U.S. citizens to report foreign financial assets held outside the U.S. 
More about Form W-9
Form W-9 for non-employees is comparable to Form W-4: Employee's Withholding Allowance Certificate for employees.
The form must be completed for all non-employees so that the IRS can match income for these individuals with the annual tax report (Form 1099-MISC) required to report income for these individuals. The employer must include the appropriate taxpayer identification number on each payment to the non-employee, and the total of all payments for the year must be included on the Form 1099-MISC provided to the worker and the IRS. 
The W-9 form is also used for other purposes, which makes the instructions confusing. W-9 forms are used for interest, dividend, and barter transactions, real estate transactions, mortgage interest, and other payments. 
Here is a copy of the most recent W-9 form (PDF format). This form is fillable, meaning you can complete it by filling in the blanks and printing out the form. 
How to Complete Form W-9
Form W-9 includes 7 items. See the W-9 form instructions (included with the form) for more details and special cases that might apply to you. 
Line 1. Name - This is the name of the individual completing the form. It should be the name on your individual tax return.
The term "disregarded entity" is mentioned in the instructions for this item. A disregarded entity is a business entity that is separate from its owner.
Don't include a disregarded entity name on Line 1. 
Line 2. Business name/disregarded entity name. If you have a business name, trade name, DBA (doing/business/as) (fictitious name that has been recorded) or disregarded entity name, enter it here.
Line 3.  Federal tax classification of your business. This is the part that has been made easier. 
a. If your business is a sole proprietor business or a single-member LLC check the first box. A sole proprietor business operates under the owner's social security number and has not registered with a state as another type of business. A single member LLC is an LLC with one owner, which is taxed as a sole proprietorship. 
If you are not sure of your business type, you are probably a sole proprietor, but check with your attorney or tax advisor just to be sure.
If your business is a single-member LLC that is a disregarded entity, check the "Individual/sole proprietor or single-member LLC" box. 
b. If your business is an LLC with multiple members, check the Limited Liability Company box. Then you must check the box corresponding to your business tax status. If your LLC has not filed a request to be taxed as a C corporation or S corporation, the LLC is taxed as a partnership. 
c. If your business is registered with a state and taxed as a corporation or s corporation or partnership, check the appropriate box. 
Line 4. Exemptions. There are two types of exemptions described in this section: 
a. Exempt from backup withholding. Most individuals and business types are not exempt from backup withholding. If your business is a corporation, it may be exempt from backup withholding for certain payments. See your tax advisor on this question. 
b. Exempt from FATCA reporting. The IRS says, "These codes apply to persons submitting this form for accounts maintained outside the U.S....If you are only submitting this form for an account you hold in the U.S., you may leave this field blank." 
Lines 5 and 6. Address, Line 6, City, state, and Zip code. Complete using the address where you want your 1099-MISC to be mailed. 
Line 7. Account numbers (optional). 
Part II Taxpayer Identification Number. This is the trickiest part of the form, which hasn't been made easier. 
If you are a sole proprietor, enter your social security  number here, even if you have an EIN.
If you are a single member LLC disregarded entity, enter the owner's SSN or EIN. 
If you are part of a multiple-member LLC that is classified as a corporation or partnership, enter the entity's EIN. 
PLEASE check with your tax advisor or call the IRS directly if you are confused about what taxpayer identification number to include on this part of the form. Failing to include the correct taxpayer identification number can result in issues with your payments, backup withholding, and your tax return. 
Part III Certification. In this section, you must certify that the information you provided is correct, especially as it related to (a) your taxpayer identification number, (b) your exemption from backup withholding, and (c) your FATCA reporting status. This is a legal document, so read carefully and follow the certification instructions. 
Disclaimer: The author is not an attorney or tax professional and the information in this article and on this site is not intended to be tax or legal advice. Consult your attorney or tax professional if you have questions or concerns about this form.