Choose Between Any Of These Four Types of Drywall Mud (Joint Compound)
How to choose the appropriate drywall mud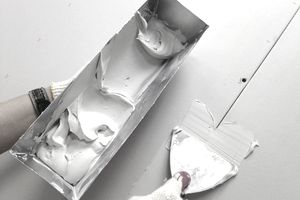 Ever wondering what is the best type of drywall mud available for your project? Well, there are a couple of options and a few things that you will need to know before reaching a decision. Here is a list of the most common types of joint compound (drywall mud) and when is the best application for each one of them. 
Topping Compound
It is the ideal option after the first two coats have been applied. It is a low-shrinking compound that can be applied quickly and offers great slip and bond characteristics.
It is a very workable mud type and only requires minimum mixing. It is not recommended for embedding tape, and it is not intended for first coats. When applied properly, the topping should reduce your sanding time in comparison to the lightweight. It is the final coat prior to wall texture and paint, ideally as a top coat for seams and corner bead.
All-Purpose Compound
This type of mud is generally used for embedding joint tape, finish gypsum joints, texturing, skim coating and used when laminating or repairing cracks in plaster and masonry.It is also the preferred option when coating the first three layers. However, it is not as strong as the topping compound. It is important to point out that it will work great when there is no moisture associated with the repairs. The All purpose joint compound is manufactured in such way that it will create the necessary bonding to secure the tape and become harder as it dries out.
It is available in ready to use containers, and most of the manufacturers offer mud with Low VOC content. It provides great workability and superior open time as well as minimum sanding to achieve a smoother surface.
Best Drywall Mud to Cover Plaster Cracks
Tapping compound one is the best option if you need to cover plaster cracks and when superior bonding and crack resistance is required, especially in areas of heavy traffic.
It offers a fast solution for finishing joints and has excellent bonding for embedding joint tape. It can be the best mud option for laminating gypsum panels in multi-layer partitions and ceilings. Every place where drywall tape needs to be installed should have a coat of tapping compound before applying the tape. All excess mud will then be removed by scraping out surface all you will need to let it dry before applying the second coat. It is normally used in gaps between sheets and at corner locations.
Best Drywall Mud when Time is Critical
Quick setting, also called or referred as 'Hot Mud,' this type of compound works great when working in areas with limited construction time or if you need to apply multiple coats the same day. It is also used for plaster repairs, large and deep, and areas where drying time can become an issue. If you are working or installing drywall in an area with high humidity, you might want to use this compound to ensure a proper drywall finish. It will dry quickly once water has been applied to the compound and it will sand easily. It will normally dry in about 20 minutes or less, but you don't need to wait until it has dry out to apply the second coat, it can be applied over even if it still drying.
This mud needs to be mixed with water to create the proper consistency, so be sure to follow manufacturer's recommendations prior to use. It is available in a light-weight formula, saving time and money due to its ease of application offering crack and bubbling resistance. There are many types of mud varieties depending on the time you want to apply the next coat.  You can get a 5-minute, 20-minute, 45-minute, 90-minute or higher setting time depending on how much time you have for the next coat.