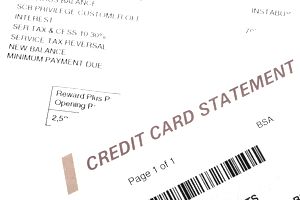 If you've lost your credit card statement or it hasn't come in the mail yet, you can pull up your most recent billing statement online in just a few easy clicks.
First, you'll have to navigate to your credit card issuer's website. Many credit card issuers' websites have the same web address as their name. For example, for Capital One, the website is CapitalOne.com, Citi is CitiCards.com; Discover, Discover.com; American Express, AmericanExpress.com.
If you're in doubt, check the back of your credit card. The credit card issuer's website may be listed there and if it's not, you can call the number on the back of your credit card to ask the customer service department.
First Time Users, Create an Online Account
If you've never created an online account for your credit card, you'll have to do that before you can check your statement. (Skip this section and login if you've already registered.) Once you've landed on your credit card issuer's website, look for the form that asks for your username and password. On that form, you should see a button or link to Register or Enroll. The steps from this point will vary depending on the credit card issuer, but you will generally have to enter your credit card account information, some personal identifying information, and create a username and password. Make sure you use a strong password that can't be easily guessed.
Login and Look For Your Billing Statement
After you log in, you should see basic information about your credit card account: most recent balance, available credit, minimum payment due, next due date, and perhaps the amount of your last  few transactions. To see a full copy of your statement, look around the page for a link that will take you to a copy of your statement.
You may have to download a PDF of the statement and view it offline.
While you're logged in, you can set up a payment, if your payment is coming due soon. You'll need your bank account and routing number to make a payment as you can't make your regular credit card payment with another credit card.
Your credit card issuer may give you the option to enroll in paperless billing. If you sign up, you'll no longer receive credit card statements by mail. Instead, you'll receive an email when your credit card statement is ready to be viewed online. You may prefer this option, especially if you primarily make your credit card payments online.