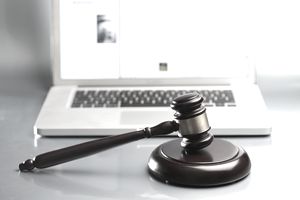 Everyone makes mistakes, and eBay buyers are no exception. Perhaps you heard about the toddler who was playing around with her Daddy's mobile phone and accidentally bought a car on eBay? That is a true story. Back in 2013, a toddler picked up her Daddy's phone after he had been using the eBay app to look at cars. She pressed enough buttons to complete a purchase of a used Austin Healey Sprite for $225.
Dad could have retracted the bid but paid for the car and will have it restored. (Read the full story here.)
Bidding is a Buying Commitment
As a general practice, eBay does not encourage canceling bids. In fact, the verbiage from eBay about bidding states:
A non-binding bid is a bid that shows a buyer's interest in purchasing an item, but it doesn't create a formal contract between the buyer and the seller. All bids made in the Real Estate and eBay Motors vehicles categories are considered non-binding.
Bidding on an eBay item does not create a binding agreement, but frequent bidding then canceling a bid is not an accepted practice and too many retracted bids can result in eBay closing your account. eBay does not allow:
Bidding without the intent of completing the purchase 

Retracting a bid on an item that doesn't fall into a non-binding bid category

Backing out of the transaction due to buyer or seller remorse
Backing out of the transaction because buyers didn't place a high enough bid and the seller didn't add a reserve price

Stating in the listing that bidding could result in a binding obligation to complete the purchase
Avoid Shill Bidding
Just make sure you really want to purchase the item and make that commitment.
eBay also frowns on shill bidding, which is an arranged bid by a friend, relative, co-worker, or someone the seller has asked to bid on the item to artificially inflate the price. Shill bidding is a serious offense on eBay and repeat offenders will be suspended from the site. Years ago, when eBay was mostly auctions, shill bidding was a common way to artificially raise the final selling price of auction items. Users often had multiple user IDs and would even be paid by the seller to input fake bids. This practice isn't as widespread today, mostly because auctions aren't as robust as they used to be and many auctions end without a single bid.
How to Cancel a Bid
eBay understands that accidents happen and that occasionally a bid needs to be canceled. If you, your child, or your intoxicated friend bids on an item by mistake, follow these steps to have the bid canceled.
Review the conditions and time restrictions for canceling a bid in an auction-style listing.

If you feel you have a valid reason for canceling a bid, fill out a Bid Retraction.
How to Cancel a Winning Auction Bid
If you bid by mistake and actually won the item, the steps are different. Contact your seller through the eBay messaging system and explain that you want to cancel the sale.
While they will be disappointed, most sellers will honor the request and move on. Sellers only get a strike against them when they cancel sales because of damaged or missing inventory. eBay sellers cannot force buyers to pay, so if the seller makes any threatening or harassing statements, report them to eBay Customer Service.
How to Cancel a Winning Best Offer
Best Offer is another situation where buyers may change their minds. Granted, sellers are not happy to hear that buyers want to cancel a sale, for many, eBay is how they earn their living. But buyers have the right to cancel a sale. Again, contact the seller and ask to cancel the transaction. Neither trading parter will be able to leave the other feedback since the transaction isn't completed and money isn't exchanged. 
Bottom line, no transaction is set in stone on eBay.
Respect the platform and understand that bidding and offers are a commitment to buy. Sellers are people just like you who are reasonable people and will usually work with buyers in an accommodating manner.
Updated on July 25, 2016 by Suzanne A. Wells.