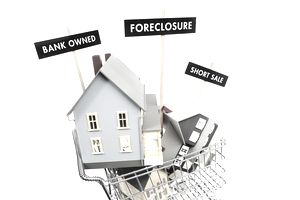 What is a HUD home and should you buy a HUD home? Good questions, and we have the answers. U.S. Department of Housing and Urban Development (HUD) residential foreclosures are available for sale throughout the United States. The sales process for purchasing a HUD home is more complicated than buying a home from an individual, so take a few notes before you jump on that HUD website or ask your agent to show you HUD homes.
What Is a HUD Home?
The Federal Housing Administration (FHA) is a part of HUD -- the part that provides federal mortgage insurance. If a foreclosed home was purchased with a loan insured by the FHA, the lender can file a claim for the balance due on the mortgage after the foreclosure. FHA pays the lender's claim, then transfers ownership of the property to HUD, which then sells the home.
How Much Do HUD Homes Cost?
HUD homes are appraised, then priced at what is supposed to be fair market value for their location. The price of a home in need of repairs is adjusted downwards to reflect the investment the new owner must make to improve the home. Ask your agent to provide comparable sales for HUD homes because there is no guarantee you will get a break on the price.
Will HUD Make the Repairs?
HUD homes are sold as-is. The new owner is responsible for all repairs and improvements. The best investment you can make is to order a home inspection before you buy a HUD home.
How Do I Find a HUD Home?
You can view HUD listings by following state links on HUD's website. Each state's Internet destination is set up a little differently, so take some time to browse the search engines and page layout.
When you've located a home you would like to see, any HUD-approved real estate broker can show you the property.
HUD-approved brokers may be listed on the agency's website. If the home you'd like to see is in your area, you can also contact your preferred local real estate broker and ask if the office is approved to show HUD homes.
Do I Simply Make an Offer to Buy a Home?
HUD foreclosures are sold using a bidding process, and you must hire a licensed real estate agent to assist you with process. There's an offer period, during which sealed bids are accepted through your agent. At the end of that period, all offers are opened. HUD usually accepts the highest bid, or the bid that brings them the highest net.
If the home remains unsold after the initial period, bids are opened as received.
If your bid is accepted, your agent will be notified. You will be given a settlement date, usually 30 to 60 days from the date of your accepted contract.
HUD pays real estate brokers an industry-standard commission for facilitating the sale of its homes. To get paid, the selling agent must remember to insert wording in the contract to confirm that HUD will pay a commission.
Will HUD Finance the Home?
HUD does not finance homes. You'll need to apply for a mortgage. Your financing must be approved before you make an offer.
If your bid is accepted, and you do not close on the house, you may lose the earnest money deposit you submitted with the offer. Ask your agent about this possibility before signing the offer.
Should I Have a Professional Home Inspection?
Home inspections are recommended for any home purchase. You should inspect a HUD foreclosure, for information purposes only, before making an offer. It will help you to determine a bidding price, especially if repairs are required. Homes built before 1978 may contain lead-based paint, so learn more about lead paint hazards before making an offer. Other items to consider are asbestos content, buried storage tanks and other environmental hazards.
Can I Buy a HUD Foreclosure for Investment Purposes?
During the initial offering, HUD homes are available only to those who wish to buy them as their primary residence.
If an owner-occupant does not bid on the home, investors are allowed to enter the bidding process.
Does HUD Offer Other Programs?
If foreclosures are not sold within six months, HUD may sell them for $1 each to approved nonprofit organizations and government agencies. Homes must then be used to create housing for families in need or to benefit neighborhoods. HUD also offers special home purchase programs for teachers and full time law enforcement officers.
Edited by Elizabeth Weintraub, Home Buying Expert at TheBalance.
At the time of writing, Elizabeth Weintraub, Cal BRE # 00697006, is a Broker-Associate at Lyon Real Estate in Sacramento, California.