How to Buy a Home With an Outdoor Kitchen
Buying a Home With an Outdoor Kitchen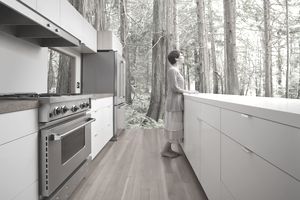 Outdoor kitchens make sense. Home buyers in the 21st Century gravitate toward outdoor entertaining -- and love a house with a nice outdoor grilling and seating area. Make no mistake about it, though, in today's modern outdoor kitchen, your dad's weathered charcoal grill does not take center stage. 
How to Shop for a Home with an Outdoor Kitchen
While you're shopping for homes with an outdoor kitchen, pay attention to the brand names and amenities.
Don't make the mistake of strolling past the outdoor kitchen without noting the specific items included in the purchase price. Some outdoor kitchens are portable, and might not stay with the home, so it is always best to ask. 
The National Association of Home Builders estimates that outdoor kitchens can add as much 130% of their cost to the purchase price. However, the initial cost of outdoor kitchens varies from $3,000 on the low end to $100,000 or more, depending on the layout, design, quality, and type of improvements.
Make up a list of every item you see and ask your agent to include this list as an addendum to your purchase offer. Ask about the age of each item and its warranty. Moreover, check the items online for pricing to help you figure out if you are paying too much for the home. Remember -- unless the home is brand new, most outdoor kitchens are used, which means the appliances will have depreciated.
What to Look for in an Outdoor Kitchen
The possibilities of an outdoor kitchen are limited only by imagination and bank account. Here are a few of the features you may find in an outdoor kitchen:
Grill
Some grill brand names to consider are Alfresco, Big Green Egg, Dacor, DCS, OCI, Thermador, Frigidaire, Whirlpool, Wolf. Note the BTUs, unit width, side burners / grillers and housing. Is it portable or built-in? Gas or electric? Does the grill have a cover? Is the housing weatherproof? Is there an exhaust hood and, if not, which direction does the smoke blow?
Grill Islands, Counters and Storage
Are the counters at least 36-inches high and 24-inches wide? What is the surface, and is it easy to maintain? Porcelain, stainless steel and cement are common options, but the surface could also be tile, plastic or stucco. Determine if the quantity of storage meets your needs.
Sinks
Stainless steel is a popular choice for an outdoor sink because it doesn't rust. Most outdoor kitchen sinks run only cold water, but hot water isn't out of the question in high-end outdoor kitchens.
​​​Refreshment Centers 
Does it include an ice machine and, if so, how much ice can it produce in 24 hours? Is there a wine cooler? What types of beverages will it dispense? Will it accommodate beer kegs?
Refrigerators
All outdoor refrigerators should be UL approved for safety. Note the number of shelves and material, generally metal or tempered glass. Is the door reversible? Do you have to bend down to reach the drawers? Is it frost-free? Easy to clean? Is the housing weatherproof? Energy efficient with an adjustable thermostat?
Pizza Ovens  
Most pizza ovens are made out of brick or other refractory material and are wood-fired. Check the condition of its chimney and vent. Ask how the temperature is moderated.
Decks and Flooring  
Slippery surfaces could cause accidents, so scope out the flooring and decking materials. Are they made from treated wood, which contains chemicals? Popular types are concrete tiles, brick or natural stone. Are the risers adequate and conforming on the stairs? Does the deck, if elevated, have railings? How is it secured to the house? Does it conform to code?

What is Missing?  
If the existing outdoor kitchen doesn't measure up to your standards, and you feel the need to expand, plan on shopping at the end of the season to take advantage of the discounts offered at close-out sales.
Why Bother with an Outdoor Kitchen?
After you own a home with the set-up, you may wonder how you ever got along without an outdoor kitchen. Here's why: 
Outdoor kitchens offer the opportunity to cook while being surrounded by family and friends. It's a great way to socialize and to not feel ostracized inside while everybody else is outdoors enjoying the weather.
Cooking outside keeps the heat out of your home, which should reduce your utility bills. It reduces the need to run back and forth to the home since everything you need is in one place.
The house stays clean. Typically clean-ups outdoors are simple and fuss-free, just sweep or wash off the patio and decking afterward.
Some foods just taste better cooked outdoors. Whether it's a lobster and clambake or a plain hamburger, nothing really beats a grill for flavor.
Most of all, outdoor kitchens are fun. If making dinner means spending time outdoors, you will be motivated to cook more often and to try out some of those summer recipes you've been collecting.