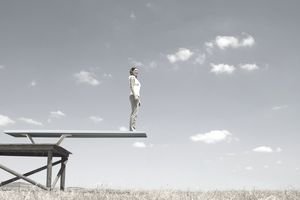 How do you build an author platform?
If you've ever tried to sell a book — or have been reading the marketing articles in this — you'll have heard the term "author platform." But how do you start effectively building your own author platform?
First, start as soon as possible. Then, in order, follow these five steps, which build on each other. First: 
1. Build Your Author Platform with "Owned" Media
Owned author platforms are those media vehicles over which you have complete control.
The advantage of these "platforms" is that you're free to put your content out into the world without needing the good opinion of a gatekeeper (for example, an editor, producer, etc.) to accept you first.
Owned author platforms include:
The advantages of owned platforms are:
They can be nearly free (if you're handy with a bit of design)
They can be good representations of your "brand"
They are proof of your expertise, skills and knowledge
They are simple to post content on.
Posting does not depend on others to vet your content
Of course, merely having an "owned" author platform does not guarantee that you'll "earn" an audience for your work.
Th So next…
2. Increase Your Author Platform with "Third Party Free" Media Platforms
These author platforms comes somewhere between "owned" and "earned" because there is low (or no) bar to author entry, but if you don't already have an "earned" following, you need to do some work to "earn" eyeballs for your work.
Some media platforms where it's easy to post are:
Medium (for opinions and essays)
Wattpad (for fiction writers)
Next...
3. Increase Your Author Platform with "Earned" Media
Earned "media" platforms come as the result of someone else being interested in what you have to say (ex. the topic or contents of your book). If you already have a website or blog or social media accounts, you probably know that it's easier to put out content than to get it read.
Earned author platforms have "gatekeepers" — whether that gatekeeper is an editor who decided to publish you or a Twitter user who needs to decide to "follow" you. If you don't have a bit of a platform already, generally require that you have:
Existing expertise and credentials in a subject matter
Writing / social media skills to help you promote what you put out
Some "earned" author platforms include:
Social media followers
Reviews or editorials in publications
Op-eds in established media
Regular media gigs on television, radio, online or print
Many established online publications (such as The Huffington Post, Quartz) do not pay many of their writers and/or pay very little when they do. However you feel about this more and more common phenomenon (and I'll save my opinion on that for another article), it means these media outlets look for free / cheap content from qualified writers.
Therefore, they can be useful for authors building a platform, especially those with topic expertise. These publications require pitching yourself, and so there are gatekeepers, AND they often rely on the writer to bring more eyeballs to your own article / work with social media, but having their imprimatur brings a bit of authority to your platform.
When you're at a tipping point, you might... 
4. Increase Your Author Platform With A Publicist
A tipping point is when you have big news to share - a book launch itself, a major award, a new gig that gives you even more credibility and are great time to accelerate your platform with earned media such as reviews, excerpts, etc. 
Note that hiring a highly qualified publicist to do a robust book campaign costs thousands of dollars but can be instrumental in getting authors and books into some of the unpaid "third party" media platforms (#2 above).
Read more about hiring and working with a freelance book publicist.
5. Only Judiciously: Boost Your Author Platform with "Paid" Media
Paid media is basically advertising… online banner ads, print ads, etc.
Paid media is most effectively deployed when a book or author already has momentum. Traditional publishers know this and actually rarely spend this money on unproven books. Most often, they only pay for media when the author or book is already promising (that is, already has a track record or fantastic book reviews). Follow their example.
Some vehicles for print and online book ads are: