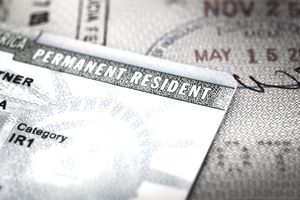 When seeking to work in the USA it's important to be aware of scams that offer to assist with obtaining a visa. It's important to know that there is never a fee to apply for a US work visa or to obtain US government application forms or instructions.
In addition to scams that solicit payments for processing visa paperwork, it's also important to be aware of scammers that attempt to give them your personal information, which is then used for identity fraud.
The following are some of the typical US visa and green card lottery scams and how to avoid them when you are seeking employment in the United States.
Typical Visa and Green Card Lottery Scams
Fee for Green Card Lottery Scams
With this scam, companies or individuals claim that, for a fee, they can make it easier to enter the U.S. Department of State's annual Diversity Immigrant Visa (DV) (Green Card lottery) program or increase your chances of being selected. No organizations are authorized to assist with the green card lottery process or will be able to increase your chances of being selected for a visa.
Helping With Visa Applications
There are websites that offer to process visa paperwork or request money to complete lottery forms. The only official way to apply for the Diversity Visa (green card) lottery is directly through the official US Department of State website during the registration period.
There is no fee to apply.
Fees for Government Forms
There is never a fee to pay for a US government form. If a website is charging for government forms it's a scam. Government forms and instructions for completing them are always free from the government agency that issues them.
Fees for Services
Websites, email messages, letters, or advertisements that say they can help you obtain a visa for a fee are fraudulent.
These websites and emails cannot help you obtain a visa. For example, many fraudulent emails offer US visas or "green cards" in return for a fee. Visa services can only be obtained from official US government entities, including the Department of State, a U.S. embassy or consulate, or the Department of Homeland Security.
Identity Theft
In addition to soliciting payments for visa services, scammers may also be seeking your confidential information for identity theft purposes. Do not disclose any personal information on third party websites or via email.
Tips for Avoiding Visa Scams
Check Your Diversity Visa/Green Card Lottery Status Online
You will not receive an email message notifying you about winning a visa from the US Government. In addition, no other organization or private company is authorized to notify DV applicants. Check your visa status online at http://www.dvlottery.state.gov.
Avoid Fraudulent Websites
Internet sites ending in the ".gov" suffix are official government websites. These sites are the only official sites that can assist with obtaining a US visa. Information on other websites may be inaccurate or out-of-date and should be verified by consulting an official U.S. government website.
Watch for Email Scams
All email related to visa applications will only come from a .gov email address, which is the official US government email account. All visa-related correspondence coming from an address that does not end with ".gov" should be considered suspect.
Avoid Identity Theft
Do not disclose any personal information on any non-official US government website or via email.
How to Report a Visa Scam
To report a visa scam, visit econsumer.gov.
Work in USA Articles and Advice