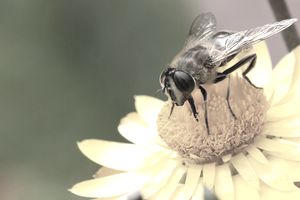 Maximize the yield of your fruit and vegetable garden, and boost the overall health of your yard by taking steps to attract pollinators. The following tips will help you to attract bees, as well as lesser-known pollinators like flies, beetles, butterflies, moths and birds:
Landscape with plants that pollinators like. Studies show that native bees are four times more attracted to native plants, so try to select plants that are indigenous to your area when you can
Plant a rainbow. Different pollinators are attracted to different colors. Plant a range of colors in your garden to bring in as many pollinators as possible
Plant flowers in a variety of shapes. Pollinators have different tongue lengths. Mix up flower shapes, and you'll keep everyone happy
Make sure you have flowers blooming in your yard at all times, from early spring to fall. If you want your pollinators to stick around, you have to keep them feed throughout the entire growing season
Plant in clumps. A large concentration of flowers in one spot will attract more pollinators than single flowers planted here and there
Plant in the sun. Pollinators favor sunny spots over shady spots
Allow more of your plants to bolt (especially your herbs). Deadheading will make your yard look neater, but cut down on the number of blooms available to pollinators
Avoid the use of pesticides. They can be harmful to bees and other pollinators. Instead, try: Plants that Deter Garden Pests
Provide a clean source of water. This can be a bird bath, a shallow dish, a fountain or some other water feature
Mow less. Lawn weeds like dandelions and violets are a source of food for native bees
Provide nesting spots. Piles of branches, leaves, hollow twigs, rotten logs and unmulched areas will attract a range of pollinators. If you don't want to keep those things around, make or buy a mason bee or pollinator house for your beneficial insects to live in
Plant flowers near the fruits and vegetables that you want pollinated, so they'll be easy for your bird and insect friends to find
Page 2: Plants that Attract Pollinators
Any flowering plant will attract pollinators, but if you really want to invite bees, butterflies, birds and other pollinators to your yard, these are the plants to have:
Natives
American Vetch
Aster
Azalea
Barberry
Bee balm
Bergamot
Blackberry
Blacked eyed Susan
Blanket flower
Blueberry
Buttercup
Butterfly weed
Buttonbush
Chokeberry
Chokecherry
Cinquefoil
Clover
Columbine
Coneflower (Echinacea)
Currants
Daisy
Dandelion
Dogwood
Elderberry
False Indigo
Flax
Four-o'clock
Goldenrod
Jasmine
Joe-Pye Weed
Holly
Hollyhock
Honeysuckle
Huckleberry
Hyacinth
Hydrangea
Hyssop
Indian Paintbrush
Iris
Larkspur
Laurel
Lily
Lupine
Milkweed
Morning Glory
Oregon Grape
Pawpaw
Penstemon
Phlox
Pincushion Flower
Poppy
Prickly Pear Cactus
Primrose
Queen Anne's Lace
Rabbit bush
Rhododendron
Rose
Rosemary
Sage
Savory
Scorpion weed
Shooting Star
Snowberry
Spiraea
Stonecrop
Sunflower
Sweet Alyssum
Sweet William
Trillium
Violets
Witch Hazel
Yarrow
Yucca
Non-Natives
Basil
Borage
Catnip
Chives
Cosmos
Dill
Lavender
Marjoram
Mint (and members of the mint family – penny royal, lemon balm, etc.)
Oregano
Thyme
Wallflower
Zinnia
Note: This list covers plants that can be grown successfully in North America. However, not all plants are suitable to all regions. Always check compatibility with your zone before purchasing any seeds or plants.
Also keep in mind that some of these plants can be invasive. Do your research before deciding which plants are right for your particular situation.
For more information about the plants listed here, access the free Pollinator Guide for your region at pollinator.org. Your local county extension office is also a good resource to draw from.
See Also: