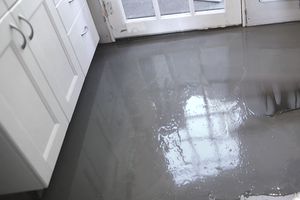 Self-leveling concrete is a flowable polymer-modified topping that can be self-leveled without troweling. They are one of the preferred solutions for leveling uneven surfaces and when the area to be repaired is subject to moderate traffic. A self-leveling concrete does not need excessive amounts of water and is normally used to create smooth surfaces. It is the preferred way to fix a floor before installing floor coverings.
Benefits of Self-Leveling Concrete
Some of the benefits obtained when applying self-leveling concrete are:
Self-leveling concrete comes in a ready to use mixture and is relatively easy to apply.
Depending on the product, it might be colored or dyed.
Offers a relatively fast strength gain.
Doesn't require special tools during its application.
Provides an excellent bonding to concrete surfaces.
Offers high abrasion resistance.
It can be installed on the top of concrete, ceramic tile, wood or any non-flexible surface.
It is easy to install and can be applied even after the construction process has finished.
It requires less water than traditional concrete.
A seamless surface can be created if it is not applied over a very large area; otherwise, you should have control joints.
Self-leveling concrete dries so fast that can save you money by shortening the construction process.
How to Apply Self-Leveling Concrete
Self-leveling concrete can be applied very easy following these steps:
Start by reviewing your manufacturers' specs as they normally require to apply a primer to the surface before the self-leveling concrete is applied. This is normally a step that most contractors do not follow.
Mix the self-leveling concrete in a pail or bucket, by adding the necessary amount of water. Mix thoroughly using an industrial mixer (paddle). Keep mixing it until you have a created a uniform mix and all cement has been mixed. 
Now you are ready to apply the product, but be sure to have a clean surface before pouring the mix over the surface.
Pour the mix over the surface. The mix should run freely self-leveling over the surface.If the mix is not moving to the required areas, use a trowel to push it to the desired area. 
Be sure to check that the thickness of the product is not thicker than 2 inches but not thinner than 3/8 inches.
You can also use a broom or a brush to apply the concrete. It dries in only minutes due to its thin consistency.
When the self-leveling concrete begins to dry, it will turn into different colors so don't be surprised if it shows many colors during this process.
Common Self-Leveling Concrete Applications
Self-leveling concrete can be used in different application such as:
Fix uneven surfaces, especially floor surfaces.
Great solution to fix light manufacturing floors, retails and warehouses.
It is the preferred way to level a floor surface prior to installing carpet, hardwood flooring, stone, and tiles.
It can be applied and used as countertop surfaces.
It can be used to repair concrete cracks and other imperfections.