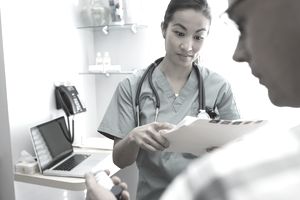 When you're interviewing for a nurse position, you'll be asked about your skills and experience, your training, and your interests. Your interviewer will also want to know why you have applied for the new position, and more specifically, what makes you want to work at that particular facility. Here's some guidance on how to answer.
Prepare for the Interview
Getting a job as a nurse takes more than just having the right education and experience.
You need to be prepared at every step of the process to show the hiring manager that you are the best candidate for the job. Your resume and cover letter need to be up to date, and highlight the nursing skills and experiences that are most relevant to the position you're applying for. When answering questions about why you want to work at the particular facility, keep the job posting in mind, and try to include specific examples of how you possess the skills they are looking for which will make you a good fit for their facility.
Do Your Research
If you're applying at a rehabilitation facility, don't just say you want to help patients regain their best possible health or mobility. You need to say why you want to work at that particular rehabilitation facility. Maybe it's known for its use of progressive techniques, or maybe you're interested in the patient base the facility caters to. You might answer:
Your facility has one of the top-rated cardiac units in the country, and I am interested in utilizing my experience with cardiac patients in a hospital engaging in the latest research and techniques.
I really enjoy working in geriatrics, and your facility has a vibrant and innovative reputation for its programs and population.
The mechanics of sports injuries have fascinated me since my days as a student athlete. Your facility utilizes some of the most interesting treatments, and is known to be developing new techniques in many common chronic issues. I believe that my surgical background would make me an asset to your nursing staff, and I would love the opportunity to gain experience in such a renowned facility.
Career Development
Your long-term goals are an important part of why you're applying for the job, and it's okay to share them, as long as it involves committing to a length of employment that makes it worth their while to hire you. When taking this angle to explain your interest in the facility, be sure to emphasize the knowledge and growth you can gain in the position you're interviewing for, as well as the potential for advancement with the company.
I plan to continue my education and upgrade my credentialing, so I want to work in a facility where I can progress to higher levels of nursing care and responsibility.
I want to work in a large hospital environment because it provides opportunities for me to expand my knowledge with training and by working alongside experts.
I am looking for a stable, long-term position, and this facility is known for its strong, collaborative teams and career satisfaction among its nurses.
Job Satisfaction
If you are seeking this job because you will find it more personally fulfilling, give the interviewers specifics as to why. For example:
I have worked in very large hospitals where I gained valuable experience, but I prefer working in a small hospital, where you can get to know your patients, the doctors, and your colleagues on a more personal level.
Avoid the Negative
Never give as a reason that you want to leave the horrid place where you are currently working. That's a huge red flag to interviewers. A negative attitude doesn't magically change just because you change jobs. Keep your answer positive and upbeat, and keep the focus on the reasons you want to be at the facility you're applying to.
Why Health Care?
A related question, especially if you are new to nursing, is why you want to work in the healthcare industry.
Great answers include wanting to make a difference in people's wellness, wanting to make people feel better, and the desire to help certain populations, such as the indigent, diabetics, or the elderly.
After the Interview
Make sure you follow up with a thank you letter as soon as possible after your interview. In it, reiterate your interest in the position, and take the opportunity to mention a few key assets that make you a strong candidate. Thank the interviewer for her time and consideration, and include your contact information so it's easily accessible when they want to get in touch.
Interview Articles and Advice