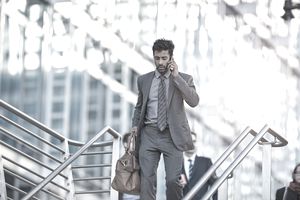 You might be asked in an interview, "Are you willing to travel?" Typically, you will only get this question if the job requires some regular level of travel. An interviewer will ask this question to see if you are willing and able to travel as much as the job requires. When answering this question, you want to be honest about your flexibility. However, this is also your chance to ask follow-up questions about the amount and type of travel required.
Read below for advice on how to answer this question, as well as sample answers.
How to Answer Interview Questions About Travel
Know the travel requirements beforehand: Ideally, you should know if the job requires travel before you apply. If you know you absolutely cannot travel for work, do not apply to jobs that require regular travel.
Be honest: It is important to answer this question honestly. There is no reason to say you are willing to travel if you are not.
State your travel limitations: If you have any limitations that might restrict travel, be sure to state them clearly. For example, if you have to be home with your family on weekends, you will have to explain that you can only travel Monday through Friday. Again, you should be as honest as possible in your answer, so you don't get hired for a job you ultimately have to turn down.
Ask clarifying questions: The question "Are you willing to travel?" is also a chance for you to ask questions about the type of travel required. Even if you are willing to travel, you can ask follow-up questions to learn more about the travel requirements. For example, you might ask how much travel is involved (if the job listing didn't state this). You can also ask how the travel is broken up – would you travel one day every week, or for one month every year? You might also ask where you would be traveling, or whether or not weekends are included. With this information, you can provide a more honest answer to the question. This will also keep you from being surprised about the amount of travel later on.
Explain how you've traveled in the past: When answering the question if you are comfortable with travel, explain how you have traveled for previous jobs. This will show that you have experience with this kind of travel.
Focus on how you can help the company: When answering this question, avoid answers that explain how you benefit from travel. For example, don't say that you love free hotel rooms or the chance to travel the world on the company's dime. Instead, emphasize why you think travel is important for the job.
Sample Answers
I am very willing to travel. I have worked as a sales representative in the past, and that work required 50% travel time. I know this job requires 25% travel time, and I am willing and able to travel when needed for this company.
I am definitely willing to travel. I believe it is extremely important to meet regularly with my clients face-to-face to develop our working relationship. However, could I have a bit more information on the type of travel required for this job, to get a better sense of the job schedule? Would this travel be weekly, or once every few weeks or months?
While childcare commitments require me to stay in town on the weekends, I am very flexible with my schedule on weekdays. I have traveled extensively for my previous job, and am comfortable with a high percentage of travel days. Would the travel for this job be on weekdays, or weekends as well?
More Job Interview Questions and Answers