How to Ace a Second Interview
Top 10 Tips for Success in the Second Interview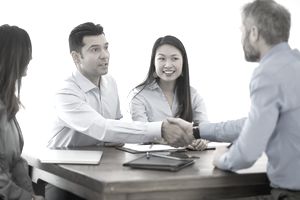 If you have been fortunate enough to excel in your initial or screening interview, now is the time to prepare for the major challenge of wowing your employer in the follow-up interview normally held on site at the organization's facility.
Screening interviews are often conducted by trained recruiters from the Human Resources department. However, when you go on site for the second interview, you will often meet with managers and other staff in departments related to your hire.
What can you do to prove to these individuals that you have the right stuff to succeed in their arena?
Top 10 Tips for Success in the Second Interview
1. Keep up your energy and enthusiasm throughout the visit which may last from 2 to 8 hours. There will often be a series of meetings or interviews with individuals and small groups. Each person will be evaluating you independently and accessing both your motivation to work there as well as your qualifications. Try to make a fresh, energetic impression in each session even though you may be fatigued or bored about answering the same questions.
2. Be prepared to answer variations of the same questions which you might have responded to in the initial interview in order to prove your fit. Your first interviewer probably has not transmitted this information to her colleagues. So be ready to say why you are interested in the role and to relate how you have the knowledge, skills, and personal qualities which will enable you to succeed.
3. Be concrete when discussing your qualifications. Make sure you have specific examples of how you have utilized your strengths to meet challenges and achieve success in past courses, volunteer work, jobs/internships, projects and campus activities.
4. Be ready for group interviews. The natural tendency when interviewed by several people is to focus your delivery on the most approachable or comfortable interviewer.
Make sure that you make eye contact with all your interviewers and direct your responses to all members of the interviewing group. Each person will have a say in your final evaluation, and some of their assessment will inevitably be influenced by whether you developed a rapport with them.
5. Don't forget that you are always being evaluated even when individuals are not asking you probing questions. You will often have the opportunity to meet with recent hires, perhaps for lunch. These folks will be asked for their impressions later on so don't let down your guard.
6. Some site visits involve group activities like case analyses or social receptions where you might interact with other candidates. Employers will use these situations to assess your ability to work in groups. You will need to showcase your leadership skills and finesse with people to succeed in these sessions. Drawing consensus, including others, and listening, will be valued in addition to any astute statements and creative solutions which you might offer.
7. Be prepared to ask questions and show an interest in each person with whom you meet. Examples include what they enjoy most about their role, a summary of their career path with the organization, the biggest challenge faced by their employer at this juncture and what they think is necessary for one to succeed in the job for which you are interviewing.
8. Send a follow-up communication to as many individuals with whom you've met as possible, and do so immediately after your meeting. Make sure you get business cards from everyone or ask your visit coordinator to share that information. If you really want the job, try to write something different in your email or letter which relates to your conversation with that individual. They will know that you are making an extra effort which will prove that you are a hard worker.
9. Make sure it is clear to all involved that you really want the job and think it is an excellent fit. All things being equal, the most motivated candidate (without seeming desperate) will often have an edge.
10. Maintain occasional communication with your prospective employer in the time following the interview. Relay any updated information about accomplishments and awards.
It often can be a matter of just checking in to reiterate your strong interest and see if there is any update regarding your status.
Keep Your Job Search Moving Forward
Taking these steps will enhance the likelihood that you will eventually receive an offer and begin an exciting career with that employer, but remember to stay active in pursuit of other options in case that promising prospect doesn't pan out.
More Second Interview Tips