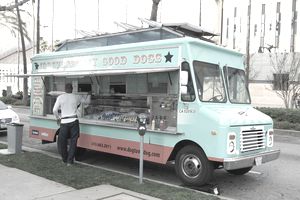 While food trucks are typically far cheaper than opening a traditional brick and mortar restaurant, they are still a significant investment.  Outfitting a brand new food truck starts anywhere between $30,000 and $100,000 give or take.   If you are considering starting a food truck business, it's important to start with a realistic budget and a good business plan.  Beyond that, researching your local food truck market will help further refine your food truck concept.
Food Truck Costs
Food truck start-up costs vary from state to state, depending on licenses, permits, and other fees.  For a simple truck, with a minimal mobile kitchen and storage, you could get started with as little as $30,000 - $40,000.  Remember, you get what you pay for, though. A food truck is first and foremost a vehicle.  You want it to be reliable, not just for transportation, but your entire business. Forbes Magazine estimates that an average cost for a food truck is closer to $50,000 - $70,000. This price would include a gently used food truck and "reasonable" remodels.  If you are willing to spend between $50,000 - $100,000, you can get extra bells and whistles or a completely new truck.  If your budget is bigger than $100,000 you may want to look at opening a more traditional stand-alone restaurant or explore purchasing a chain restaurant – the likely return on the investment will be bigger and faster than a smaller food truck business.
Food Truck Financing   
Just like financing a new restaurant, financing a food truck requires a business plan.  Small business administrations, banks or private lenders/investors are all options. If you may even have enough assets to liquidate to come up with the start-up funds yourself.  As you create your food truck business plan, consider what's on your menus, who are your customers, how you are going to market your food truck.
Food Truck Operating Costs
It's true that food trucks are relatively inexpensive to open when compared to a traditional restaurant, and their overhead is generally small – a few staff people, limited equipment, a concentrated menu that doesn't require a lot of storage space.  But remember, once you get the food truck on the road and ready for business, there are still a number of costs associated with the day to day operations including insurance, permits and other fees. Depending on what area you do business in, there may be a commissary fee which can run anywhere from $400 to $800 a month. If you plan to accept credit cards for payment, you will need some type of electronic POS and internet access.  Some food truck owners also rent out a commercial kitchen, for meals preparation, which involves another monthly fee. 
Do Your Homework
Here is a great article from FoodTruckr about 50 food truck owners and what they wished they'd known before going into business. Among the comments: an understanding of licensing and permits – sometimes it can take months, how different regulations are from state to state, and how expensive it was going to be in the beginning (30% higher than anticipated).
  It's also important to understand how food trucks are utilized in your area.  The food truck climate in New York City and Los Angeles is different in Chicago or Boston.  Don't assume what works in one area will automatically work in another.
Food trucks are among the most popular restaurant concepts at the moment. Offering lower overhead than a traditional restaurant, food trucks still require a significant start-up investment.  Just as with any small business, there are associated fees, licensing and permits that contribute to overhead costs of a food truck.  Understanding the local area and its perceptions of food trucks is also important, to help create a successful business plan.