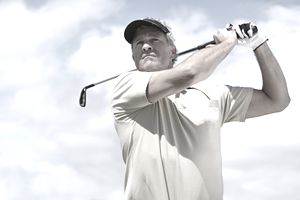 Among the notable athletes in financial careers was a former collegiate golfer named Mark McCormack. Trained as a lawyer, he eventually established himself as the prototypical sports agent of the modern age, revolutionizing this business. While the fictional Jerry Maguire portrayed in the movie of that name purportedly was based on another real-life agent, Mark McCormack arguably set the mold.
His key insight: top athletes can earn significantly more from commercial endorsements and personal appearances than from playing their respective games.
He executed this strategy brilliantly, starting with the most popular golfer of the late 1950s.
Later on, adding ancillary services for his clients led him to create a financial services subsidiary, and to enhance its capabilities by striking a surprisingly one-sided bargain with a leading financial services firm.
Mark McCormack and IMG:
Mark McCormack was born in Chicago 1930. As a collegiate golfer at William & Mary, he became friendly with an opponent from Wake Forest named Arnold Palmer. After graduating Yale Law School, he took a position with a Cleveland law firm.
In 1960, Mark McCormack formed his own firm, International Management Group, or IMG, to negotiate commercial endorsements for Arnold Palmer, who was already well on his way to becoming one of the leading figures not just in golf, but in the entire sporting world. After gaining publicity for its work on behalf of Palmer, Cleveland-based IMG soon became a high-profile agent for athletes in other sports, and also for celebrities such as actors and singers.
In time, its operations expanded to include the organization and broadcasting of golf and tennis tournaments, ice shows, concerts and other events.
Mark McCormack is widely recognized as a pioneer of modern sports marketing. In particular, he and IMG were trailblazers in making commercial endorsements the major source of income for many top professional athletes, eclipsing their earnings from salaries or prize money.
As an adjunct to IMG's work as an agent, Mark McCormack added family office style personal financial management services. In time, IMG also started attracting corporate executives and other wealthy individuals, not just professional athletes and entertainers, as clients of this division.
Creation of McCormack Advisors
In 2000, Mark McCormack scored a major coup with the creation of McCormack Advisors, seeing that an entry into financial services could be very lucrative. He had enlisted the help of Merrill Lynch in upgrading the investment advisory and investment management capabilities of IMG's family office division. Rejecting the straightforward approach of simply offering Merrill Lynch accounts to his clients, McCormack insisted on creating a joint venture. Negotiating with a senior Merrill Lynch executive who had been desperate for years to enter the celebrity market, McCormack knew he could drive a hard bargain.
As the name suggested, McCormack Advisors was created on terms highly favorable to McCormack, with IMG receiving a disproportionate share of the revenues while saddling Merrill Lynch with existing IMG overhead costs. In 2002, Merrill Lynch exercised its option to withdraw from the venture, at a net loss to itself and a net gain to IMG.
The Merrill Lynch executive who championed the deal had long since lost his job, partly due to this venture. Mark McCormack died in 2003.
Lessons in Success
The IMG story shows that the future path of a business can hinge on a single, early, high-profile success story, like Mark McCormack's work for Arnold Palmer. Also, the story of McCormack Advisors shows that smaller firms run by tough, shrewd owners often can take advantage of giant corporations whose hired managers are not playing with their own money.