How is IBM's CEO Virginia Rometty, Doing?
Named 4th Most Powerful Woman in Business by Forbes in 2011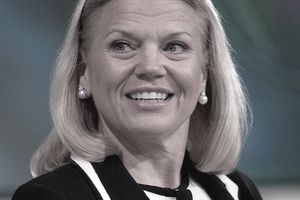 IBM Appoints Its First Female CEO
In October of 2011, IBM (also referred to as "Big Blue") announced it had appointed its first female CEO in the history of the company.  At the time of her promotion to CEO, Virginia M. Rometty ("Ginni Rometty) had already been with IBM for 30 years.  The company was founded June 16, 1911 and in 2009 reported $95.758 billion in revenue.
After taking over the company, Ginni faced significant challenges left in the wake of her predecessor's (Sam Palmisano) disastrous mistakes.
Almost immediately, bloggers began predicting the demise of Ginni, questioning her ability to effectively restore, run, and grow the company. 
So how has she done?
Looking at raw data (see chart below at the end of this article) it is easy to see that the company's annual reported revenue has declined -- and rather significantly -- since Ginni took over.
The last year-over-year increase in sales was reported at the end of the first quarter of 2012 which was also the end of Rometty's first quarter, but from there on out, IBM sales continued to drop every quarter (and as of October 2015, continue to drop.)
One of the reasons IBM sales have fallen off is due to the strong dollar because more than fifty percent of all IBM's revenue is generated from outside its Americas division. These "BRIC" (Brazil, Russian, India and China) markets have also experienced financial downturns.
IBM stocks have remained unimpressively flat since she took over the company.
Trying to Turn Things Around
In April 2015, Rometty announced plans to "reboot" IBM by pushing harder to compete in the cloud computing, analytics, and mobile markets and is also now offering services for security and social networks.
Since she took over, IBM has struggled to catch up with the rest of their competitors and Rometty began pushing even harder to enter markets that are new territory for Big Blue.
  As of the fall of 2015, the company continues to invest in more cutting-edge technology (IBM has now invested more than $2 billion on a cloud-technology company, SoftLayer, and made a $1.2 billion investment in additional data centers) that has yet to turn the falling profits around.
But IBM has had some successes under Rometty and perhaps the most noteworthy (which has yet to become available for commercial sales) is "Watson" the supercomputer.  Watson played against two human competitors on an episode of Jeopardy which helped lift Watson to a household name.  IBM now markets IBM Watson Discovery Advisor in the healthcare, finance, retail, and travel industries.
In a March interview with the The Wall Street Journal, Rometty stated:
"My job," she says, "is to balance remaking IBM for the moment with an enduring IBM for the future."
Brief Bio
Name: Virginia M. Rometty (rhymes with confetti)
Spouse: Mark Anthony Rometty, a principal investor in the Barn Oil Company.
Children:  None
Age:  58, she was born July 29, 1957 in Chicago, IL. 
Virginia M. Rometty was appointed President and CEO effective January 1, 2012. She became Chairman of the Board of Directors on October 1, 2012. Mrs. Rometty began her career with IBM in 1981 in Detroit, Michigan.
Updated:  September 29, 2015
IBM's Annual Revenue Since Ginny Rometty Became CEO
Year
Revenue
(Billions)
Notes
2010
$99.9
In 2010, IBM's CEO was Samuel J. Palmisano who would later announce on October 25, 2011, that he was stepping aside as president and CEO.
2011
$106.92
IBM announces Ginni Rometty as President and CEO to take effective January 1, 2012.
2012
$104.5
The end of her first year running the helm, revenue decreased by 2.26%.
2013
$99.8
Reported annual revenue declined year-over-year from 2012 by 4.5% and 6.6% cumulative since she became CEO.
2014
$92.8
Reported annual revenue declined year-over-year from 2013 by 7% and 13.2% cumulative since she became CEO.
2015
N/A
In January, IBM reported its thirteenth straight decline in quarterly revenue.