How Incarceration Affects Financial Aid
Don't Assume You Are Not Eligible for Help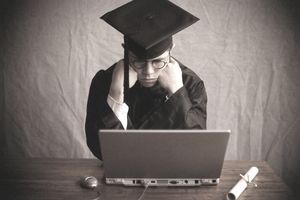 Being incarcerated in prison or a juvenile detention facility can severely restrict your ability to obtain an education. Classes may be limited, and it can be hard to obtain the necessary books, conduct online research, or find a quiet place to study. Those that persevere are often defeated by the unfortunate fact of their limited finances. While not nearly as substantial as it is for those outside the criminal justice system, there are some forms of financial aid which may be available to help.
Pell Grants May be Available
The Department of Education has announced that approximately 12,000 incarcerated students are now eligible for federal Pell Grants under a Second Chance Pilot Program. Previously only those incarcerated in a local, municipal, or county correctional facility who otherwise met eligibility criteria could receive a Federal Pell Grant, while those incarcerated in federal or state penal institutions did not. Under the test program, however, 67 colleges and universities, along with 100 federal and state penal institutions, will participate in a test to determine if high-quality education program enrollment for incarcerated individuals increases after improving access to financial aid. A majority of the schools offer classroom-based instruction at corrections facilities, while other institutions will offer either online education or a hybrid of classroom and online instruction.
Participating institutions may now provide Pell Grants to qualified students who are incarcerated and are likely to be released within five years of enrolling in education and training programs. Selected schools can begin offering coursework almost immediately. Although dollar amounts can change yearly, the maximum PELL Grant award amount for the 2016–17 award year is $5,815, depending on financial need, cost of attendance, status as a full-time or part-time student, and plans to attend school for a full academic year or less.
Prisoners will still need to complete a FAFSA to determine their eligibility for these Pell Grants, but all of the pilot sites will provide counseling or guidance to potential students to help them complete this application.
Here are some other ways in which being incarcerated might affect your eligibility for financial aid:
If you are in a federal or state institution you might now be eligible to receive a Federal Supplemental Educational Opportunity Grant (FSEOG), because priority for these grants is given to those students who also receive a Federal Pell Grant. You could be eligible to receive between $100 and $4,000 a year, depending on your financial need, when you apply, the amount of other aid you get, and the availability of funds at the school providing the instruction.
If you are in a federal or state institution, you will probably not be able to participate in the Federal Work-Study (FWS) program, even though you might be eligible, due to the logistical difficulties of performing an FWS job while incarcerated.
If you are in an institution other than a federal or state institution you can get a Federal Pell Grant. You may also be eligible for FSEOG and FWS, but you probably won't receive these monies due to similar limitations as those in the federal and state institutions.
Any individual who is considered incarcerated may not receive federal student loans, but you may be eligible for a deferment or forbearance on loans you received prior to your incarceration.
Once released, most eligibility limitations are removed; however, if your incarceration was for a drug-related offense or if you are subject to an involuntary civil commitment for a sexual offense, your eligibility may be limited. When you complete the FAFSA, you will be asked whether you had a drug conviction for an offense that occurred while you were receiving federal student aid. If the answer is yes, you will be provided a worksheet to help you determine whether your conviction affects your eligibility for federal student aid.
Even if you are not eligible to participate in the federal Pell Grant program, you should still talk to the education coordinator at the institution where you are incarcerated and complete the FAFSA.
Many postsecondary institutions do make institutional aid available for students during and after incarceration, and support students in applying for available state-based aid.