Hurricane Gustav Facts, Damage and Costs
How Did Hurricane Gustav Affect the U.S. Economy?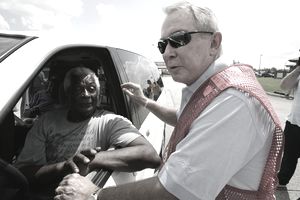 On September 1, 2008, Hurricane Gustav hit the Louisiana shore. It had been reclassified down to a Category 2 storm. That made it less destructive than Hurricane Katrina's Category 3 that hit three years earlier. At its height, Hurricane Gustav was a Category 4, also less than Hurricane Katrina's Category 5.
Even though Gustav was not as strong a storm as Katrina, the economy was in worse shape. Many feared that it would cost the economy more than the $108 billion from Hurricane Katrina.
Instead, it cost $4.6 billion. (Source: "The Deadliest, Costliest U.S. Tropical Cyclones," Table 3a. Not adjusted for inflation. NOAA Technical Memorandum, August 2011.)
The Louisiana Economic Development Department estimated it would cost $2.5 to $5 billion in local economic damage. Gustav headed for the heart of Louisiana's sugar industry. Its crop value was $500 million, according to the American Sugar Cane League. This area of Louisiana had 50 chemical plants, which produced 25 percent of the nation's chemicals. The nearby Mississippi coast was home to 11 casinos, which take in $1.3 billion annually. The state estimated it would cost $4.5 billion to $10 billion in property damage. This included:
$2 billion to $4.5 billion for homes, autos, and other personal property,
$1 billion to $2.5 billion for business property,
$1.5 to $3 billion for damage to agriculture, timber, and fisheries, as well as public facilities.
(Source: AP, "Gustav's possible economic hit is widespread," August 31, 2008; BEA, National Accounts; USA Today, "Katrina damage estimate hits $125B")
Hurricane Impact on Oil Distribution
Gustav devastated the oil industry. It caused an estimated loss of $8 billion to $10 billion in oil production. All Gulf offshore oil rigs and Louisiana land-based oil refineries were shut down in advance.
Shipping was suspended. That included of 5.6 million barrels of crude oil. That's 56 percent of imported oil that enters the Gulf every day.
Louisiana produced 22 percent of America's domestic crude oil and 10.5 percent of its natural gas. People were concerned because Hurricane Katrina had caused oil prices to rise $3 a barrel. That's because it affected 19 percent of U.S. oil production. Hurricanes Katrina and Rita destroyed 113 offshore oil and gas platforms and damaged 457 oil and gas pipelines. They spilled nearly as much oil as the the Exxon Valdez. 
As important as these industries are, the huge concern was the damage Gustav could do to New Orleans. Hurricane Katrina wrecked $260 million in damage to the port, although it was open to ships just a week later. The city's tourism industry created $9.6 billion annually before Katrina.
By the time Gustav hit, it had just returned to attracting 7.1 million visitors each year, up from 2.6 million in 2006. However, Gustav's damage to the port was much less.
Impact on GDP
After Hurricane Gustav hit in September 2008, the economy contracted. The nation's gross domestic product fell 8.2 percent from October through December. Real GDP was just $14.557 trillion.
No one was surprised. In November, the Dow fell to 7,552.29 from its 14,164.53 high set on October 9, 2007. 
But that was not caused by the Gustav. The hurricane hit during the worst recession since the Great Depression. Any economic impact by the storm was lost in the economic freefall. Global financial markets nearly collapsed. For more, see 2008 Financial Crisis Timeline. 
On the other hand, Hurricane Katrina sent GDP growth down to 1.3 percent in Q4 2005. It had been 3.8 percent in Q3. However, since the economy was still growing strongly, by Q1 2006 GDP growth bounced back to a robust 4.8 percent.
Hurricane Ike
Two weeks after Gustav, Hurricane Ike hit. It turned out to be the third costliest hurricane in U.S. history, after Katrina and Hurricane Andrew. Total U.S. property damage was $29.5 billion, six times greater than the damage from Hurricane Gustav.