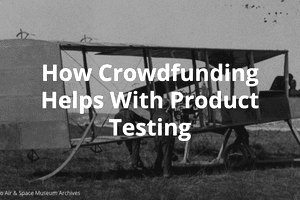 April 23, 2015
It seems almost everywhere you look right now, we're hearing about crowdfunding (read more about the basics of crowdfunding) From startups to larger Fortune 500 companies, businesses are embracing crowdfunding and they're flocking to some of the top crowdfunding platforms.
Crowdfunding provides an efficient way to finance
It's worth taking a step back to understand why businesses are choosing crowdfunding to launch new products into the marketplace.
Sure, crowdfunding provides an efficient way to raise money for a project or company. With crowdfunding, no banks are involved. A company doesn't have to pay any interest on the money it raises through it's campaign. If you're raising money via reward crowdfunding, you're not selling any equity in your company -- you're essentially taking donations or pre-selling your products.
Crowdfunding tests your product like nothing else
But beyond this efficient way of raising money, there's perhaps a more important and emerging reason for companies to turn to crowdfunding and that's product testing.
It provides designers and producers of things the opportunities to test the waters and see how receptive people are to new ideas and products before they spend all the time and money bringing them to market.
Here's how a recent Globe and Mail article described crowdfunding as a perfect way to test new products:
After all, it addresses a timeless design challenge: "Designers have always understood that they need feedback from prospective customers as early as possible in the prototype development process, and crowdfunding provides that," Roos says. "Instead of trying to get someone to write you a huge cheque, you're reaching out to the community and engaging with them. This is fundamental design thinking. It permeates design schools, but hasn't permeated business schools yet."
Get feedback, reduce business risk
Indeed, that's always been the conundrum with launching new products, a process that's pretty costly in terms of time and money. Crowdfunding enables an entrepreneur or company to get quick feedback -- in the form of real money -- on ideas and plans for future products. Why waste time and money developing something before you've received valuable feedback from the crowd. That's what crowdfunding is all about.
Here's an entrepreneur explaining why he chose to go the crowdfunding route: 
Launching a product is risky business, after all. In extreme cases, a new product can make or break a company. Wouldn't it be great if you could sell your next one before you made it--validating the market and getting paid in advance? If we could build everything we sell to order, perfectly matching supply and demand, we would earn more, waste less, and have a lot more fun.
So, the feedback is almost immediate with crowdfunding. It's a winning proposition for both backers and those running campaigns. They get access to cutting-edge, exciting product before they hit the market and companies get to fully test their ideas.
Crowdfunding is a great feedback loop, community builder
More companies and entrepreneurs are turning to crowdfunding to vet their product ideas.
What's more is that throughout the feedback loop, a crowdfunding project is picking up passionate fans. These fans are willing to donate money to your cause. They're willing to fund development of your product and frequently wait years to get anything in return.
They're so engaged in your project that they're even likely to contribute to your next project. The Wall Street Journal recently wrote about the success of serial crowdfunders:
...new data show that those with one successful project under their belts have nearly double the chances of success—73%—of reaching their next funding goal. And those with five projects have a 91% likelihood, according to [Kickstarter].
Done right, crowdfunding can quickly raise the money you need to fund your big idea. But it's so much more than that -- it's a magnet for attracting passionate fans who will provide you with the needed feedback to make your product a hit.