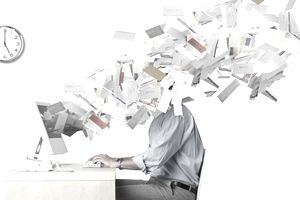 How can users prevent eBay from sending them email notifications? After all, email marketing isn't for everyone, and even those who have been fans of an eBay mailing list in the past can find themselves deciding that it's time to clean their inboxes up a bit by unsubscribing from eBay-originating email.
But how does one go about removing oneself from eBay mailers? Here are the steps that you need to take.
Pinpointing the problem
If the messages you'd no longer like to see show items or messages from one particular seller or a group of regular sellers, you're likely subscribed to those sellers' mailing lists. This usually happens because you've purchased something from them in the past and opted to receive email from them then.
To access the saved sellers list where you can unsubscribe, sign into eBay by visiting eBay.com and clicking the "sign in" link near the top-center of the page. From your "My eBay" page, click on the large "saved sellers" square on the left side of the page.
You should now see a list of the sellers you've marked in the past as "favorites." Toward the left side of the page, you'll see a column labeled "subscriptions" that shows which sellers you've opted to receive email from previously.
To end mailings from any seller in your saved sellers list, follow these steps:
Click on "more actions" next to the seller in question.
Choose "edit seller preferences" from the resulting pop-up list.
On the next page, under "email communication preferences," check or uncheck preference boxes to edit what you see in seller-generated email to you or to add or remove yourself from the seller's mailing list. To remove yourself from all mailings by this seller, uncheck everything.
Click "save" at the bottom of the page to save your preferences.
Repeat these steps for each seller in the list that you no longer want to see messages about.
Once you've made the changes above according to your preferences, you should no longer see any of the undesired messages in your email box.
Removing Yourself from General eBay Marketplace Mailings
Not all of the email that can come from eBay is seller-specific. eBay also sends to subscribers a set of general promotions, coupons, and items specifically for those that sell on eBay, with content containing everything from rule changes to listing promotions.
If you'd like to opt out of some or all of these, sign into eBay and from your "My eBay" page, click on the account tab. On the "My Account" page, click on communication preferences near the left edge of the page.
You'll now see a long list of communication categories—things like "buying activity" and "selling activity" and "resolution center." You'll also see a category at the very bottom marked "promotions and surveys."
To end marketing email and general notices from eBay, click the "show" link next to "promotions and surveys" at the bottom of the page and uncheck boxes next to options according to your preferences.
To edit any of the other notification activity, click the "show" link next to the kind of email you'd like to stop and set options accordingly. Remember to click "save" any time you edit the preferences in any category.
Keep in mind, too, that it may not be a good idea to stop some kinds of notices if you're still an active eBay user. For example, you probably want to know when someone has sent a message to you on eBay about a transaction you're involved in, so be careful when turning off mail sent from the "member communication" category, for example.
It Didn't Work or I'm Not an eBay Member
If you've removed yourself from every mailing list that you can see in either of these areas and are still receiving eBay-branded messages, there's likely something else going on—phish and/or spoof email messages being sent to you from someone other than eBay.
Phish and spoof email messages are frauds. They're created to look like a message from eBay, down to the last detail, and, thus, trick you into giving up your personal information or attack your computer with the installation of trojan horse or spyware software.
If you think you're being affected by phish and spoof email, learn more about this threat before you open any more of these messages so that you know how to protect yourself from possible negative effects.
Sadly, there's no way to stop phish and spoof email completely; some scammer or fraudster has your email address (likely amongst a batch of hundreds of thousands of others) and can email you to their heart's content. Note that eBay is not the one that "leaked" your email to the malicious person in question.
eBay has carefully put in place protections like its mail forwarding system and ban on email addresses as eBay member IDs to ensure that email addresses are never given out. It's more likely that at some point over your Internet life you've simply posted a message to a discussion board or created a blog or website and that scammers have found your email address "in the wild."