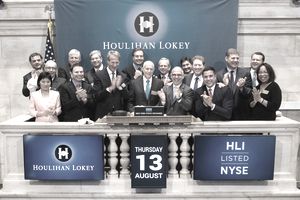 About Houlihan Lokey
Houlihan Lokey is one of the largest privately owned investment banks in the world.  Houlihan Lokey is a global investment bank that provides capital markets, mergers & acquisitions, corporate restructuring, and financial advisory services as well as assistance in the sale of distressed assets for mid-market companies.  They also raise private and public equity for clients.   Houlihan Lokey has been named the #1 investment bank in its class for the past 10 years including Reuter's rankings as #1 as Advisor for U.S. Transactions under $ 3 billion, # 1 as Fairness Opinion Advisor, and #1 for Global Investment Banking Restructuring Advisor.
  Security firm competition includes CitiGroup, Morgan Stanley, Lazard, Greenhill & Co., and others.
According to Glassdoor.com, the average monthly salary for an intern at Houlihan & Lokey is $5,443.  Summer Financial Analyst intern positions range between $5,765 and $6,237 monthly dependent on the student's background and experience.  Current employees rate the company a 3.5 out of 5.   Some of the pro's of the company include the fact that they are an acknowledged industry leader in restructurings, in providing excellent promotional opportunities to mid-level management, and its practice of offering good pay in conjunction with a better work-life balance than most in this market segment.  The firm hires between 50 and 100 interns per year for a duration of between 6 to 12 weeks, depending on the position and location.  Candidates are chosen from college sophomores and juniors pursuing degrees in business or finance.
INTERNSHIP OF THE WEEK: Summer Financial Analyst Intern
Summer Financial Analyst interns work on a variety of projects that provide an introduction to the aspects of investment banking services and client industries. These may include, but are not limited to, mergers and acquisitions, and refinancing, and leveraged buyouts.
Interns work with a staff of dedicated professionals who offer a broad exposure to the many issues and concerns of investment banking. Interns may get an opportunity to conduct research and financial analysis, review general and industry-specific economic conditions and developments, evaluate acquisitions and divestitures, and investigate various investment attributes of publicly traded and private securities companies during the time of their internship.
Benefits
Houlihan Lokey provides a collegial and entrepreneurial.
The company offers interns substantial responsibility and interaction with senior-level professionals.
Houlihan Lokey offers an excellent salary to its interns.
Locations
Los Angeles, CA; Chicago, IL; New York City, NY; and San Francisco, CA plus other locations around the world.
Responsibilities
Developing complex financial models.
Analyzing financial statements, industry conditions and developments.
Examining acquisitions and divestitures and making recommendations.
Evaluating various investment attributes of publicly traded and privately held securities.
Qualifications
A B.A./B.S./B.B.A. candidate majoring in Finance, Accounting, Business, or Applied Economics.
Course work in accounting and finance and a fundamental understanding of valuation theory, methodologies and applications required.
Strong analytical aptitude, financial and computer proficiencies (Excel in particular) are critical.
Proven ability to work in a team environment with all levels of staff.
Excellent verbal and written communication skills preferred.
To Apply
To apply, please visit Houlihan Lokey's website and complete the form.
According to statistics, getting an interview at Houlihan Lokey is 54% based on campus recruiting, 26% on employee referral, 13% by applying online, and 4% by applying in-person.  So the chance for success is very good if the company recruits at your school and is improved even more if you can network with someone who already works at the company (Hint: check with your Career Development Center to see if they have an alumni network that you can tap into)!  Make sure you include a cover letter, resume, and any letters of reference or testimonials of applicable experience that you feel are relevant.
The interview itself is a combination of a behavioral and a technical interview in nature, so make sure you come prepared.