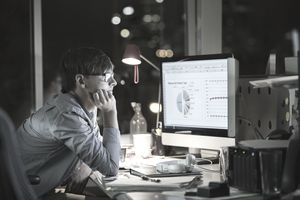 These days more than ever, there's a lot of work to be found in big data.
If you're currently in data analysis (or looking to get there), you might want to consider becoming a data architect as the next step up. With an average salary of about $95,000 and an unemployment rate at only 4.1% in 2012, it's a lucrative career, no doubts about it.
Here's what you can expect out of the job, the skills you'll need, and what to do to land the position.
What Is A Data Architect?
As is the case with most upper-level tech positions, data architects don't do just one thing, but their primary functions are to build database systems and to collect and interpret data. Usually they are employed full-time by a fairly sizeable organization like a company or a school.
Just as traditional architects sketch out building blueprints, data architects create complex plans for company databases. They are responsible for the structure, organization, and ongoing maintenance of these systems.
Their job is not a simple one; data architects require finely-honed design and development skills. Not only do they develop the initial database blueprints; they also constantly evaluate the system once it's running, making sure the security is up to par and all data is accurate and accessible to users.
Occasionally they also work with groups to figure out what data is needed for a specific project and explain how to apply it.
Mainly, data architects will work alongside data analysts and database administrators.
Key Skills Needed
Analysis and organization skills are paramount, as is the ability to take complex concepts and explain them in concise, understandable language.
A couple other skills you'll need:
Knowledge of data analysis, data migration, tools, data modeling, integration of data, data warehousing and database designing
Familiarity with data-oriented computer languages (SQL, XML)
Ability to use specific information to develop general principles
A strong desire to learn and establish best practices for a company
Relational database designing skills
Ability to develop data acquisition strategies and implement databases
Familiarity with cleaning and maintaining databases (updating/removing old data)
Communication skills and a team-based mindset
Creative and lateral thinking
Attention to detail, since a single mistake could mess up an entire system
How to Become A Data Architect
The first step is a degree in Information Technology, which should include relevant coursework in database design, data management, web development, etc. Some companies will require additional training or certifications beyond the bachelor's.
As far as experience goes, this is definitely not an entry-level position: you'll want to have 3-10 years of IT work history, preferably in a data-related position like data analysis, before gunning for an architect job.
Something that isn't required, but can make you much more attractive as a candidate, is to become a Certified Data Management Professional. To do this, you'll need to have an IT degree and two years of work experience, then pass the CDMP exam organized by the Institute for the Certification of Computing Professionals.
Conclusion
If you're a logical, analytical, computer-savvy person who loves taking large amounts of information and finding effective ways to categorize and use it, data architect may just be your dream job!