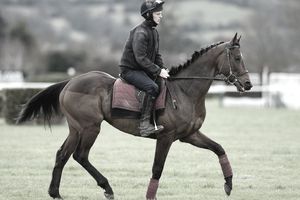 A clocker is responsible for timing official workouts that take place at racetracks or major training centers.
Duties
Clockers are tasked with timing racehorse workouts each morning. The works usually begin at 5 am and continue through midmorning. More than 100 horses may appear on the work tab on any given day at an individual track. Most tracks have multiple clockers on staff so that no workouts are missed, especially when several horses are working at the same time.
It is not unusual for most clockers to be timing two or more horses concurrently.
The clockers work from a high vantage point in the grandstand or press box so that they can see the horses clearly as they begin and finish their workouts. As each rider enters the track they notify the gap attendant of the name of their horse and the distance they plan to work. The gap attendant then communicates this information to the clockers by radio (along with identifying characteristics of horse and rider) so that they know what to expect. The trainer of the horse may also call the clockers directly if the gap attendant is not on duty. Clockers must be able to accurately identify horses by color, markings, or saddlecloth (which displays the trainer's initials).
Clockers must keep an accurate record of the fractional and final times for each workout taking place on the track. A copy of the official clocker report (including horse, trainer, distance, fractional times, and final time) must be provided to the racing stewards and racing secretary each day.
All workouts must then be published for review by the handicapping public in the track program and Daily Racing Form.
Clockers must be prepared to work very early morning hours, and the workweek may be 6 days long (or even 7 days long at some tracks). The work may take place in inclement weather and varying temperatures depending on the facilities offered by the track, though clockers tend to operate under the cover of the grandstand.
Career Options
In addition to their morning duties, some clockers also hold afternoon positions at the track during live racing (such as paddock judge or horse identifier). Others work in positions not related to the racing industry since the duties of a clocker can be completed early in the day, leaving plenty of time for a second job.
There are also a number of private clockers that provide more detailed information on morning workouts to paid handicapping services. There is a particularly large community of private clockers based in Southern California.
Education & Training
No specific educational background is necessary to pursue a career as a clocker, though many tracks list a high school diploma as the minimum educational requirement in recent job ads. Candidates must have a sharp eye for detail and the ability to multitask. Clockers need to be comfortable using multiple stopwatches to time several horses as they work simultaneously.
Clockers must obtain an occupational license to work at the track. The licensing process involves a basic application, background check, and a small licensing fee that varies by state (generally ranging from $20 to $30 per year).
Salary
The salary paid to a clocker can vary from one track to the next.
Tracks that are open year-round for morning training provide the best opportunity for clockers, as they can be assured of steady employment in such locations. Some clockers rotate between two or more tracks during the year to maintain steady employment, particularly if their home track doesn't offer year-round training facilities. Head clockers tend to earn more than assistant clockers, chiefly due to their advanced level of experience and the fact that they are operating in a supervisory role.
Career Outlook
Job opportunities for track clockers should remain fairly stable for the foreseeable future as the number of tracks and training centers is not expected to show significant growth or decline. Some turnover will occur as current clockers retire or transition into other roles at the racetrack.
The growing popularity of paid handicapping services may also translate into more positions for private clockers.