Meet Holly Birkett, Online Editor of Maritime News Site, Splash 24/7
Inspiring Women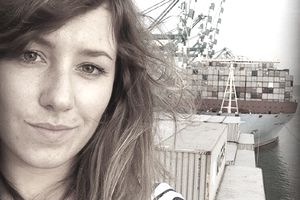 So, you want to be a freelance journalist, live in Athens, be an online editor for a fast-paced publication and cover the intriguing world of international shipping? Well, here's your recipe for success:
Be born in a "shitty little seaside town on the north-west coast of England"
Eat breakfast with farm animals (aka, pets)
Work your way through university
Backpack across middle Asia
Get spanked in a drunken brawl in a makeshift nightclub in a Russian forest
Hunt marmot in Mongolia with a semi-auto rifle
Hitch a ride (alone) on a massive cargo vessel and sail through pirate-laden waters
Meet your boss in Singapore
Display an unparalleled work ethic
Enjoy the accolades and respect of your colleagues
Next!
But wait, surely there must be something more. Certainly you don't expect my brilliant young daughter to put herself out in the world and challenge her mettle beyond expectations...do you? She's educated and well, proper. She should be an intern at a prestigious publication and hobnob at the 'right' parties before getting that Monaco Bureau assignment.
Not if you're Holly Birkett. If you're Holly Birkett you strap on a rucksack and your big-girl lederhosen and go get it. You make yourself accessible, demonstrate a keen wit, a thirst for knowledge and a 360° outlook on the world changing around you. You appreciate your job and work damn hard to be very good at what you do.
You read, study, absorb, listen to endless tapes, broadcasts and podcasts about shipping to learn the difference between a loan covenant and a shipbreaker and how each of these elements is somehow connected to how that rattan chair ended up on your lanai. You continue your education, on your own, in the evening after you've worked your full-time job, and you get even better.
You hold on to your fears, by the throat. You don't let them impede your progress. You worry (needlessly) that you'll run out of things to say so you explore your surroundings, introduce yourself, have drinks with a ship captain or a bleary-eyed double espresso with a fellow journalist the next morning and add perspective to your insider knowledge. You search for the human element in the story. You bristle if someone suspects you are anything but self-sufficient yet cherish the casual conversation of the woman who runs that bistro. In short—you don't wait for circumstances to find you, or you'll be waiting on wishes.
What Does Holly Do?
Holly Birkett is a journalist. She works as a writer and on-line editor for Splash 24/7 a global maritime source for news, events, opinion and market coverage of international shipping and trade. It's all under the auspices of Asia Shipping Media in Singapore, which produces such glossy publications as Maritime CEO, SinoShip and Gulfship News.
It's a job that requires attention—to details, stories, connections, the world economy and the geopolitical undertow that often loosens the footing of business strategies. It's a business of relationships, some secretive, or at least circumspect, with most involving the transactions of thousands of tons of cargo and the complex layering of financial instruments needed to make it all happen, profitably, for the owners, shippers, carriers and investors.
You can only enter the world of billionaire shipping magnates, and only so far, in one of three ways: by rite of birth, piles of private equity or the respect gained from being an honest broker of, in Holly's case, information. She has, "slept and breathed this industry for the past five and a half years," and not just at the her assignments but at night, earning a shipping qualification which will allow her even greater access to those who wish to share what she needs to report. "It's a constant process of trying to make contacts, to keep contacts. Now that I'm based in Athens I've really come to appreciate what a great maritime city London is." The city of London is much more open and journo-friendly while Athens remains dissembled and distant from enquiry.
The insular reputation of the shipping industry was, in many ways, reflected in the shipping journalism industry, but that has changed in recent years, in no small part to generational paradigms.
Holly says the business of shipping media has become receptive to innovative ideas, "There's much more room at the table for anyone who can come in with something effective and different." She becomes enthused at meeting a "young journalist who's new to maritime journalism. There's a great opportunity for tech-savvy journos to make a niche for themselves within maritime journalism using different modes of story-telling, such as, social media and video."
Holly still occasionally suffers from feeling inadequate, but powers through it. It's really what separates people like Holly from the pretenders. She recognizes feelings as what they are, temporary states of mind that aren't substantiated by fact and are therefore overcome by force of character. Holly recalled a story where at twenty-two she interviewed the CEO of the world's largest containership company, Maersk. "I was so nervous I sweat through my outside jacket." Rather than take it as a bad sign, Holly saw it as "getting the shit experiences out of the way early, now everything is easy-peasy." She's blunt, refreshingly so. Holly credits her upbringing in the north of England for calling it as she sees it.
I asked her how she verifies information with shippers and carriers about a story or breaking event. "I'm a pest." It's that relentlessness, independent attitude that will bring her continued success.
Her experiences inform her work. Her time on that container vessel was a "huge, huge influence on me. It filled in so many little gaps in my knowledge about how ships work and exposed me to the human element of shipping which often gets overlooked, what it's actually like to work on one of these vessels.
It's been well-documented that seafarers have the second highest rate of suicide after coal mining. After being on that ship for ten days with no port calls, I was climbing the walls. It's an extremely solitary, often boring life. Once the crew are at sea there's not that much for them to do. One can develop a Stockholm Syndrome out at sea with people from varied cultural backgrounds. I developed a deep respect for what seafarers do."
Her next mission is to one day get on an arctic voyage, perhaps as soon as next summer.
Meantime, she will work with her mates at Splash 24/7 to bring us the breaking stories from the world at sea, a world we rarely think about unless we're in the business or investing in the publicly listed companies. I write about shipping equities and I count on Splash as part of my morning routine, "all killer—no filler," Holly describes it. I see it as an excellent way to get a daily briefing from all aspects of the maritime word, from the finance and ship-building, to offshore, container vessels and every imaginable cargo, liquid or dry.
A quick hit in each front with details later if we need them. And if you need them, Holly and her team probably know where to find them.
Holly is openly passionate about maritime journalism and credits too many mentors or those she admires to name here. Suffice to say they inspire her and edify her.
Holly would never say so but I bet there's a fair few who feel the same about her. So what do does she say to you aspiring journalists?
"You've got to get out there and kick some ass. Do stuff.
You can't be comfortable. Have something to say. Curse more. Be honest. My biggest fear is not having something to say for myself, to have no stories, to be mute. I've had incredible experiences and found a great job along the way and I plan on continuing along in this way." I don't doubt her for a second.
Follow Holly Birkett at Splash247.com and read about her travels and crazy experiences on her blog. She's a wonderful writer.
_____________________________________
Joe Hefferon is a writer and retired police captain living in Toms River, New Jersey. He has recently completed a novel, "The Unlost," due out in 2015. Hefferon is a regular guest writer and has published a series of articles featuring inspiring women.
He can be reached at hefferon.joe@gmail.com or Twitter: @HefferonJoe