Expert Advice on Hiring a Professional Speaker, Emcee, or Entertainer
Answers to Your Questions About Hiring a Speaker for Your Event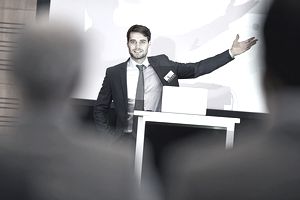 Selecting a keynote speaker, emcee, or entertainer for a corporate or organizational event requires careful planning and an understanding of meeting objectives. That's why event planners rely on the expertise of a speakers bureau.
In the first part of this series, I spoke with Diane Goodman, president of The Goodman Speakers Bureau, Inc. about the basic steps of selecting and hiring a professional speaker.
Diane has been helping organizations secure speakers since 1979. She is a recognized leader in this industry and works with national and international corporate and association meetings and conventions, among others.
Diane continued her conversation with me to share some of her perspectives and experiences about hiring a professional speaker.
About Planning to Hire a Professional Speaker
Q: Diane, you recommend that event planners should first work with their internal executives to identify clear meeting objectives and timelines, and to plan as early as possible to get the best speakers – especially keynote speakers. Can you share your thoughts on why this is important?
A: Like everyone, we want to be sure our time is used in the most meaningful ways. We don't want to go down the wrong path with a client or speaker – and then not be able to get on the schedule of the speaker the client ultimate selects.
To avoid this scenario, we strongly recommend planners get their executives on the same page early on in the speaker selection process. This can be easily accomplished by spending 15 or 20 minutes with decision makers at the start of the selection process, to be followed up in writing to confirm the direction you are taking.
This will ultimately increase the planners' value to the executive team by presenting speakers that tie into the goals and objectives of the meeting, as well as the overall strategic mission and vision of the organization. Written updates along the way may help as well, depending on the culture and style of your company.
Q: Can you identify three or five of the most common types of speakers requested and why?
A: Absolutely. Here are five types of speakers every planner should know:
Motivational: No matter if it is good times or bad, people always need a little motivation in their work and life. Meetings that are high content, educational, or training-oriented need some levity. That is when the humorous motivational speaker or edutainment-type speaker is used and always well received…laughter makes people feel good and also is a great ice breaker.
Team Building: As companies reorganize, merge, acquire or are acquired, they need to rebuild or strengthen internal relationships. Interactive team-building programs help accomplish these goals.
Adventurer: Their stories of courage and determination are among the most inspiring. Audiences are on the edge of their seats listening to these incredible people.
Leadership/Management: What characteristics make a great leader? What are the latest trends in management development? How can companies recognize and reward employees to increase employee retention? How can companies be more innovative to stay competitive? These are just a few things that executives want to hear about.
Generational: While this is not a new topic, it is increasing in popularity as more generations enter the workforce. It affects every type of group from sales and marketing to management and HR.
Q: What about hiring entertainers to serve as emcees? Which types of organizations are doing that and for what types of meetings?
A: It's really about the type of meeting that the company is trying to create, rather than the type of company that is holding the meeting. Usually, the groups that use MCs are looking to present a very unified meeting with excellent flow and continuity – sometimes with an eye towards a theme.
Often, heavy content oriented meetings will use entertainers as MCs to lighten up the atmosphere and make an otherwise daunting meeting rather enjoyable. We see a variety of different types of meetings using entertainers as MCs.
About Trends in Professional Speaking
Q: Are you noticing any new trends in speaker selection? For example, is there a shift to having industry experts serve as keynote speakers more often?
Best-selling business authors are very often in demand. It seems that many authors – though not all – hit the speaking circuit as soon as their book starts receiving notoriety. Also, there seems to be a lot more interest in hearing from successful business executives and what we call business "gurus," those who have been there, done that, and are now talking about it.
We do indeed work with industry experts, who can be academics or specialists in a given field. While they serve a wonderful purpose, keep in mind that industry "experts" are not necessarily seasoned professional speakers. Your speakers bureau should know the style, strength, and weakness of every industry expert as they would any other expert in order to provide proper guidance.
Q: What types of organizations are choosing experts over celebrities or recognizable sports figures and under what circumstances?
A: This depends more about they type of meeting the company is trying to create. Incentive meetings, or meetings for people who have had to earn the right to attend, will use more celebrity types to reward attendees with an "unforgettable" experience. More content or educationally directed meetings will lean towards more industry experts and content speakers.
We do see now a very nice trend towards the blending of the types of speakers companies will use at their various meetings. More planners are looking at the overall picture and using content or industry speakers as well as motivational speakers – and sometimes entertainers – at a wider range of types of meetings.
About Hiring a Professional Speaker
Q: Do speakers usually have any specific requirements (other than payment of their speaking fee) that event planners should be aware of?
A: Every speaker's specific requirements are different. At a minimum, a planner should expect to be responsible for paying for airfare, overnight accommodations, ground transportation, meals, and AV requirements. Sometimes a speaker may have a flat fee for travel or require a specific per-diem to cover meals and incidentals. There can also be fees for specific handouts or the right to record the address or speech.
Speakers bureaus should provide any extensive requirements to the planner before a final decision is made so there are no surprises.
About a Professional Speaker's Fees
Q: What type of fees should event planners expect to budget for a professional speaker? Is there a way you could help categorize fee ranges to expect for various types of speakers?
A: Good question. Fees range from a few thousand dollars to over a hundred thousand dollars. The speakers set their fees and there are no specific criteria or standards for how they do that.
Let's break down three of the different types of speakers: professional, expert, and celebrity.
Professional speakers are those that have chosen to speak for a living. There are thousands of these types of speakers in the marketplace. I like to think that they base their fees on their experience, knowledge, and speaking skills, but often it is what they perceive their value to be.
Expert speakers are those who speak as a result of their expertise in a given area. It is not their primary vocation.
Celebrity speakers are just that: celebrities. Often times you will pay a lot of money just to have a celebrity on the platform. The planner has to determine the value of that!
Q: Are fees for a speakers bureau included in the speaker's fee? Should an event planner expect to budget additional fees? If so, under what circumstance(s)?
A: Generally the speaker pays the bureau a commission. They do this because the bureau has secured the engagement for them and assumes all the logistical and contractual obligations. There are exceptions, as in any business, and there might be times when a bureau may charge their own fees when providing services such as extensive research or strategic planning for companies or organizations.
About Speaking Engagement Cancellations and Speakers Bureaus
Q: Plenty of situations can occur that may require a speaker to cancel an engagement. What steps can an event planner take to address this situation when contracting a speaker?
A: This is where a bureau/speaker relationship can truly make a world of difference as we can "rally" speakers to help us out in emergency situations.
Hopefully, a cancelation occurs with enough time to find a comparable replacement. But time is typically not on our side when cancelations happen.
So, when a planner learns about a cancelation, they should immediately call their bureau for a "back up" plan – even if it is only hours before the speech. If it is a large event with more than one speaker, we may be able to ask one of our speakers already at the event to do "double-duty." Or, if we know another speaker is geographically nearby, we may ask him or her to make a detour to our event and save the day.
There are always solutions; hopefully you are working with a bureau that knows their speakers well enough to overcome these frustrating challenges.
Q: Such a scenario is probably one of the most important times to work with a speakers bureau. Can you share an example of how you secured someone else at the last minute?
A: We were on-site managing the speakers for a major insurance client that was holding an incentive meeting. At about 5 a.m. one Sunday morning, my staff person got a panicked call from the client. The one speaker that they booked without our assistance didn't show up. Apparently there was some problem with the speaker's transportation, but no one really knew what happened.
The client now was left with a gaping hole in their agenda where the opening keynoter belonged! So, we got to work right away to brainstorm replacement ideas.
We knew this client and their audience well, and determined we had the perfect candidate within driving distance. We called his office, cell phone, home and his wife! When we found him, we explained the situation, and he agreed to come immediately to the meeting. Once he arrived, we had a brief meeting with the client and talked about objectives, and with no further ado the speaker took the stage.
Upon completion, the speaker received a standing ovation from the audience! As it turns out, he probably was a better choice for the opening keynote than the person who wound up a no-show.
Relationships do indeed matter!