Hillary Clinton's Economic Plan
Hillary's Plans for the Economy in 2016, 2008, and Earlier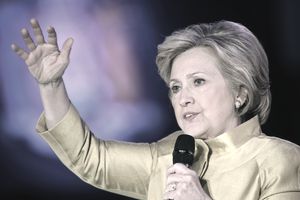 Hillary Clinton's 2016 economic platform focused on raising middle-class incomes to increase growth.  To do this, she proposed three policies.
1. Create Fair Growth. Raise the U.S. minimum wage to $15 an hour. Increase workers' benefits and expand overtime. Encourage businesses to share profits with employees. Invest in students and teachers. Support unions and collective bargaining. Strengthen the Affordable Care Act.
Expand job training. Lower college and healthcare costs. Fight wage theft. (Source: "It's Time to Raise Incomes for Hard-Working Americans," Hillary Clinton 2016 LinkedIn page, July 13, 2015.) For more, see 5 Ways Hillary Clinton Would Create Jobs.
2. Support Long-Term Growth. Combat "quarterly capitalism." Raise short-term capital gains taxes for those earning $400,000 or more. Keep the current rate of 20 percent only for assets held for six years or more.  Raise taxes to 32 percent for those held three to four years. Raise it to 36 percent for assets held two to three year. Raise it to 39.6 percent for assets held between one and two years. (Source: "Hillary Clinton Would Double Taxes on Short-Term Capital Gains," Fox Business, July 24, 2015.)
3. Boost Economic Growth. Give tax cuts to the middle class and small businesses, establish an infrastructure bank, and fund more scientific research.
Help women enter the workforce by requiring companies to pay for family leave. She created several plans to do this:
Expanded Childcare Plan and the Early Education Plan. Give states $27.5 billion to expand Early Head Start and provide preschool to four-year-olds. 
Expand IDEA. Add $16.6 billion a year to treat children with disabilities.
Energy Plan. Target $9 billion a year to repair oil pipelines and reduce carbon emissions. Fund health and retirement plans for coal workers. (Source: "The Clinton Tax Hike Plan Revealed," GOP Research, January 26, 2016.)
Tax Proposals
To pay for these initiatives, raise some income taxes. Add a 4 percent surcharge on incomes above $5 million a year. Mandate a minimum 30 percent tax rate for those earning $1 million a year. Restore the estate tax to 2009 levels. 
Strengthen the Dodd-Frank Wall Street Reform Act to end the threat from too-big-to-fail banks. Levy a risk fee on all banks with more than $50 billion in assets. Also on those with high debt levels or too much reliance on short-term funding. Extend the statute of limitations for financial crimes. Require CEOs to personally pay part of any fines levied on their companies. (Source: "Clinton Proposes Big Bank 'Risk Fee," The Wall Street Journal, October 9, 2015)
Clinton proposed an "exit tax" on corporations that attempt a so-called "tax inversion." Pay American taxes on any deferred foreign earnings.
Tax high-frequency traders. These Wall Street tax increases would raise $80 billion a year. (Source: "Clinton Proposes Wall Street Curbs," The Wall Street Journal, October 8, 2015. Chief Economist at Stifel Fixed Income, Lindsey Piegza, December 8, 2015, newsletter)
Foreign Relations and Defense
Clinton opposed the Trans-Pacific Partnership. She said it should go further to produce new jobs, raise wages, and protect national security. Clinton supported the TPP while Secretary of State. She supported NAFTA and does not oppose the Transatlantic Trade and Investment Partnership. (Source: "In Shift, Clinton Opposes Trade Pact," The Wall Street Journal, October 8, 2015.)
Clinton would combat terrorism with improved intelligence instead of troops. For example, agencies would use social media posts to identify terrorists.
Visa applications would require full screenings for those who had traveled to terrorist countries. Hire more operations officers and linguists in U.S. intelligence agencies. (Source: "Clinton Lays Out Policies to Curb Terrorism," The Wall Street Journal, December 15, 2015.)
Compare Clinton's plan to Donald Trump's Economic Plan.
Clinton announced her candidacy for President in 2016 on April 12, 2015. In a press conference two days later in Monticello, Iowa, she laid out these four pillars.
Create the economy of tomorrow, not yesterday. Income inequality depresses demand and slows growth. Made hedge fund managers income tax rates on capital gains. Focus on creating jobs.
Strengthen families by emphasizing healthcare, education, and enrichment. Make community college free.
Defense. Support free trade agreements. They are more important than defense in establishing global leadership. Develop a comprehensive defense solution that includes diplomacy as much as military might. (Source: The Daily Beast, Clinton Speech to Economic Club, October 14, 2011)
Change campaign financing.
Before that, Clinton used her position with the Clinton Foundation to outline her plans. She emphasized early childhood education and equal pay for women in a June 2013 speech. Clinton also advocated public/private partnerships to promote economic development. One example was the $4.6 million "social impact bond" issued by Goldman Sachs. The firm profits if the program met its goal of reducing the need for remedial education. That meant taxpayers only pay interest if it works. (Source:  "Clinton Addresses Education, Women and Economy," YahooNews, June 13, 2013. "Clinton to Focus on Economic Issues," CBS News, June 13, 2013. "Clinton Call on Business to Support Pre-school," ThinkProgess, June 14, 2013.)
Clinton's Economic Priorities as Secretary of State
Clinton was Secretary of State in the Obama Administration from 2009-2013. She lobbied for American companies in foreign countries. Clinton drafted the Trans-Pacific Partnership and pried open Chinese markets to U.S. companies. She lobbied for women's and human rights. She forged major diplomatic breakthroughs with Russia (since rescinded by Putin).
Clinton led the U.S. response to the Arab Spring. Congress and an independent panel investigated her role in the Benghazi attack. They found that the State Department did not provide adequate security. The attack killed U.S. Ambassador Christopher Stevens and three others on September 11, 2012.  (Source: "Benghazi Panel Caps Two-Year Probe," CNN, June 28, 2016."Clinton's Business Legacy," Businessweek.com, January 10, 2013. "Hillary Clinton," Biography.com.)
Clinton's 2008 Economic Platform
While running for President in 2008, Clinton's economic platform included the following:
Create a balanced budget. Offset any new expenditures with added revenues or spending cuts.
Provide health plan tax credits. Expand private plans used by Congress, or Medicare to all.
Create a $50 billion Strategic Energy Fund. Create an alternative energy agency and provide incentives for alternative energy use.
Double the size of the enforcement unit in the U.S. Trade Representative's Office. Increase compliance with trade agreements.
Expand the Trade Adjustment Assistance agency to help workers displaced by outsourcing.
Tax relief including child tax credit, Earned Income Tax Credit and marriage penalty relief. Reform the AMT to protect middle-class earners.
Dedicate $8 billion a year to education incentives. Provide a $3,500 tuition tax credit. 
Allow states' Mortgage Revenue Bond programs to address refinancing. Increase cap by $2.5 billion.
Allow Fannie Mae and Freddie Mac to insure jumbo loans.
Create the American Retirement Account. It would allow tax-deferred contributions of up to $5,000 per year. The first $1,000 contributed into any retirement account will receive tax credits.  (Source: HillaryClinton.com, Issues)
Clinton's plan was well-thought out and detailed. She was the only 2008 candidate to advocate a balanced budget. The tax credit, health insurance, and retirement plans would have funneled cash to consumers. That's the most direct way to jumpstart the economy. Her proposals would have increased the power of existing agencies without increasing federal spending.
Her retirement plan would have addressed the looming Social Security crisis. Her proposal to fix the Alternative Minimum Tax has been a problem long overdue. In short, this platform would have benefited the U.S. economy.
Clinton's 2008 Economic Stimulus Plan
Clinton proposed these steps to resolve the 2008 financial crisis:
A $30 billion housing crisis fund to help local governments prevent foreclosures.
A 90-day moratorium on foreclosures. A rate freeze on subprime mortgages until banks converted them into affordable loans.
More power to state housing financing agencies to help families refinance.
Increased portfolio caps at Fannie Mae and Freddie Mac.
$25 billion in emergency home heating assistance.
$5 billion for various energy efficiency measures.
$10 billion in extra unemployment insurance.
$40 billion in tax rebates if the economy worsens.
Convene the Working Group on Financial Markets, coordinating with regulators around the world.
Provide relief for mortgage holders.
Liberalize the 2005 bankruptcy law. (Sources: "Remarks on the Global Economic Crisis," HillaryClinton.com, January 22, 2008. "Aggressive Economic Plan," Hillary Clinton.com, January 11, 2008.)
Clinton's Economic Priorities as Senator and First Lady
Clinton was the U.S. Senator from New York from 2000-2008. She served on many Congressional committees. These included Armed Services, Budget, and Aging committees.Clinton served the Commission on Security and Cooperation in Europe. She worked across party lines to expand economic opportunity and access to health care.
After 9/11, Clinton supported funding to rebuild New York. That included addressing the health concerns of the first responders at Ground Zero. She fought for better healthcare and benefits for wounded service members. That included veterans and the National Guard and Reserves.
Hillary was President Bill Clinton's ​First Lady from 1993-2001. She was Chair of the Task Force on National Healthcare Reform. It created ​The Health Security Act of 1993.
In 1995, she helped create the Department of Justice's Office on Violence Against Women. In 1997, she supported the passage of the State Children's Health Insurance Program (SCHIP). It expanded health insurance for children in lower-income families. She helped pass the Adoption and Safe Families Act. It made it easier to remove children from abusive situations. (Sources: White House.gov, Hillary Clinton. NPR, Hillary Clinton. U.S. Department of State, Hillary Clinton.)
See What Has Hillary Done? 14 Accomplishments.
Clinton's Early Career
Secretary Clinton has a B.A. from Wellesley College (1969) and J.D. from Yale Law School (1973). She was an assistant professor at the University of Arkansas School of Law and worked for the Rose Law firm. In 1977, President Carter appointed her to chair the Legal Services Corporation board.
She was First Lady of the State of Arkansas from 1979-1981 and 1983-1992. During that time, she chaired the Arkansas Education Standards Committee. She also co-founded the Arkansas Advocates for Children and Families. Clinton served on the boards of the Arkansas Children's Hospital and the Children's Defense Fund.
She is the author of It Takes a Village and Other Lessons Children Teach Us (1996). She wrote Dear Socks and Dear Buddy (1998) and Invitation to the White House (2000). Her first memoir was Living History (2003), Her follow-up memoir was Hard Choices (2014). She coauthored Stronger Together: A Blueprint for America's Future.