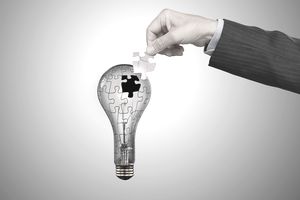 There are as many reasons to work at home as there are people looking to design a home-based career. Maybe you just had a baby and don't want to leave him in childcare. Perhaps you are a victim of a layoff and are done riding the unreliable roller coaster of trying to find a job. Or maybe you are just sick and tired of the nine-to-five grind and ready to do something you really love on your own terms.
Whatever the reason prompting your work-from-home dream, you can make it a reality if you do your due diligence.
The first step is finding the right home business for you. Too many people go to the Internet, seeking home income information without knowing if they have what it takes to succeed or if they should even consider starting a home business. Working at home isn't for everyone, and there are many reasons one shouldn't consider starting a home business.
Instead, home businesses wannabes should start by learning about home business, and taking time to find the right business option for them to insure success. Here is a three-step plan to help you figure out what type of work you can do from home.
Step 1: Figuring Out If Working From Home Is Right For You
In theory, working at home sounds like the ideal situation. Do what you want, when you want, and how you want. The reality of running a home business can be quite different.
While you have freedom flexibility, it also has a lot of stress. You'll likely expend more hours and mental energy than you can imagine. Your family may not be as supportive as you need. You may discover you don't have the tenacity and determination required to be a success. So before you head off to buy your business license, read these resources to help you decide if you have what it takes to be successful in a home business.
Step 2: Brainstorming Your Own Ideas
The most successful and fun home businesses are those that suit you and your goals. So don't start your home business search on Google. First assess your skills, interests and passions.If you study all the most successful home businesses, you'll discover their owners weren't just about the money, but they were passionate about their idea, as well.
Make a list of all the skills and experience you have from your jobs, volunteer work, and hobbies. Write down your interests and passions. From this, you'll need to figure out what can be turned into a home business. In other words, what ideas lend themselves to be sold as a service or product.If you have a passion for rose gardening, you can offer a rose maintenance service or sell roses. You can write a book about growing roses or start a rose blog, 
If you need help finding ideas that excite you, here are a few articles to get your creative juices flowing:
More Home Business Ideas
If you need more help coming up with an idea, here are more home business ideas. Check out this comprehensive list of over 75 home business ideas or review some of the many other suggestions listed below:
Step Three: Start Right
There's a lot of research, planning and work that goes into building a successful home business.
 It's true in home business that if you fail to plan, you plan to fail. Home business success has many moving parts, and if you're not on top of all of them, your business can fail before it even starts. Along with insuring you have the stamina and commitment to go the distance, you want to make sure you've plotted out your success, have the financial resources to keep you going especially during the start up, and you have a comprehensive plan to find customers and clients.
Below find a list of resources that guide you through the research, planning and initial start up phases, plus tips to marketing and growing your business.
Getting Started
Marketing ideas:
Success Strategies:
Whether you are dreaming about the day when you can work from home or you have given yourself a strict deadline on when it will happen, home business ownership is possible. It can also be very satisfying if done the right way and for the right reasons.