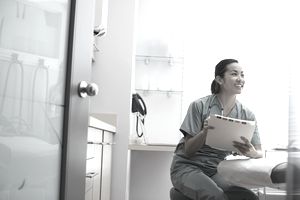 There are a variety of jobs in healthcare, and there is an increasing need for people to fill these positions. Some are clinical jobs, such as doctors, nurses, and surgeons. Others are technical jobs, such as phlebotomists and radiologists.
A number of positions are healthcare support occupations, which involve helping other clinicians. These include home health aides, occupational therapy assistants, and physical therapy aides.
Finally, there are a number of administrative jobs. These range from upper-level administrative jobs, like medical director, to jobs like hospital administrative assistants.
Because there are so many aspects of healthcare, there are a variety of medical job titles. Read below for a list of some of the most common healthcare job titles, as well as a longer list of healthcare job titles.
Popular Healthcare Job Titles
Below is a detailed list of five healthcare occupations that will likely be growing over the next five to ten years, according to the Bureau of Labor Statistics' Occupational Outlook Handbook.
Home Health Aide
Home health aides help people who are elderly, ill, or disabled perform everyday activities. They might also give clients medicine or check their vital signs. Most home health aide workers work in clients' homes, and others work in retirement communities.
Nurse Practitioner
Nurse practitioners diagnose and treat patients.
Unlike registered nurses (RNs), they do not have to work under the direct supervision of a physician. NPs must complete a master's or doctorate program.
Occupational Therapist
Occupational therapists (OTs) help disabled, ill, and injured people to perform everyday activities, such as getting dressed or getting around the kitchen.
They work in hospitals, schools, nursing homes, and more. Most OTs have either a master's or a doctorate in occupational therapy, as well as a state license. However, occupational therapist assistants (who assist OTs) need only an associate's degree, and occupational therapist aides (who also assist OTs) need only a high school diploma.
Physical Therapist
Physical therapists (PTs) help injured or ill people manage their pain and move around. They diagnose physical problems, teach patients exercises, and provide hands-on therapy. Most physical therapists have a doctorate. However, physical therapist assistants (who assist PTs) need only an associate's degree, and physical therapist aides (who also assist PTs) need only a high school diploma.
Physician Assistant
A physician assistant (PA) practices medicine. They diagnose patients, give treatments, prescribe medicine, and more. They work under the supervision of a licensed physician. PAs attend physician assistant programs, and must be licensed. 
Healthcare / Medical Job Titles
Below is an extensive list of healthcare job titles, including those described above.
A - D
Account Executive
Account Manager
Accountant
Accounting Clerk
Accounting Manager
Administrative Medical Assistant
Administrator
Admissions Clerk
Admissions Director
Ambulatory Nurse
Analyst
Anesthesiologist
Assistant Administrator
Assistant Admissions Director
Assistant Director of Nursing
Athletic Trainer
Audiologist
Behavioral Health Charge Nurse
Bereavement Coordinator
Bereavement Counselor
Billing Manager
Billing Specialist
Business Analyst
Cardiac Catheterization Lab Nurse
Cardiovascular Operating Room Nurse
Cardiovascular Technologist
Case Manager
Certified Medical Assistant
Certified Nurse Assistant
Certified Nursing Assistant
Certified Pharmacy Technician
Charge Nurse
Chief Financial Officer
Chiropractor
Claims Examiner
Claims Specialist
Clerk
Clinical Coordinator, Recovery Services
Clinical Laboratory Technologist
Clinical Liaison
Clinical Nurse Manager
Clinical Research Associate
Clinical Research Coordinator
Clinical Reviewer
Clinical Specialist
Coder
Coding Educator
Computer Analyst
Computer Programmer
Consultant
Coordinator
Counselor
Customer Service Representative
Dermatology Nurse
Diagnostic Medical Sonographer
Dialysis Nurse
Director of Nursing
Director of Operations
Director of Rehabilitation
Doctor
E - M
Emergency Medical Technician
Emergency Room Nurse
Endoscopy Nurse
Exercise physiologist
Executive Assistant
Executive Director
Family Nurse Practitioner
Financial Analyst
Flight Nurse
Front Office Clerk
Genetic Counselor
Health Educator
Health Facilities Surveyor  
Health Services Manager
Healthcare Management
Healthcare Specialist
Home Health Aide
Home Health Nurse
Hospice Aide
Hospice Administrator
Hospice Counselor
Hospice Nurse
Hospital Administrator
House Supervisor Nurse
IT Specialist
Intensive Care Nurse
Interventional Radiology Nurse
Labor and Delivery Nurse
Lead Registered Nurse
Legal Nurse Consultant
Licensed Vocational Nurse
Massage Therapist
Medical Administrative
Medical Assistant
Medical Assistant or Receptionist
Medical Associate
Medical Billing Specialist
Medical Claims and Billing Specialist
Medical Coder
Medical Laboratory Technologist
Medical Manager
Medical Office Assistant
Medical Office Manager
Medical Office Specialist
Medical or Health Services Manager
Medical Receptionist
Medical Records Clerk
Medical Records Director
Medical Records Technician
Medical Sales
Medical Surgery Nurse
Medical Technician
Medical Technologist
Medical Transcriptionist
Microbiologist
Mobile Director of Nursing Services
MRI Technologist
N - R
Neonatal Intensive Care Nurse
Nuclear Medicine Technologist
Nurse Aide
Nurse Anesthetist
Nurse Clinical Educator
Nurse Consultant 
Nurse Informatics Analyst
Nurse Manager
Nurse Midwife
Nurse Paralegal
Nursing Home Administrator
Nutritionist
Occupational Health Nurse 
Occupational Health and Safety Specialist
Occupational Therapy Assistant
Office Assistant
Office Clerk
Office Manager
Office Nurse
Oncology Nurse
Operating Room Nurse
Operations Manager
Optician
Optometrist
Orderly Attendant
Orthotist
Outreach RN
Paramedic
Patient Access Supervisor
Patient Care Associate
Patient Services Representative
Patient Services Technician
Pediatric Endocrinology Nurse
Pediatric Intensive Care Nurse
Pediatric Nurse
Pediatric Nurse Practitioner
Perioperative Nurse
Pharmaceutical Sales
Pharmaceutical Sales Representative
Pharmacist
Pharmacy Clerk
Pharmacy Technician
Physical Therapist Assistant
Physician
Physician Aide
Physician Assistant
Podiatrist
Post Anesthesia Nurse
Postpartum Nurse
Program Director
Program Manager
Programmer
Programmer Analyst
Progressive Care Nurse
Project Manager
Prosthetist
Psychiatric Aide
Psychiatric Nurse
Psychiatric Nurse Practitioner
Public Health Nurse
Quality Coordinator
Radiation Therapist
Radiologic Technologist
Receptionist
Recreational Therapist
Recruiter
Regional Kidney Smart Educator
Regional Sales Manager
Registered Medical Assistant
Registered Nurse (RN) Case Manager
Registered Nurse (RN) Data Coordinator
Registered Nurse (RN) First Assistant
Registered Nurse (RN) Geriatric Care
Registered Nurse (RN) Medical Inpatient Services
Registered Nurse (RN) Patient Call Center
Registered Nurse (RN) Student Health Services
Registered Nurse (RN) Telephone Triage
Registered Nurse (RN) Urgent Care
Registered Nurse (RN) Women's Services
Research Assistant
Research Associate
Restorative Nurse
Safety Surveillance Associate
Sales Associate
Sales Manager
Sales Representative
School Nurse
Secretary
Senior Programmer Analyst
Software Developer
Software Engineer
Sonographer
Speech-Language Pathologist
Staffing Coordinator
Supervisor
Supply Technician
Surgeon
Surgical Technologist
T - Z
Telemetry Nurse
Therapist
Transcriptionist
Ultrasonographer
Veterinarian
Veterinary Assistant
Veterinary Technologist
Wellness Nurse
Related: List of Healthcare / Hospital Administrator Skills | Best Healthcare Jobs for College Grads
Lists of Job Titles
More information on job titles and list of job titles for a variety of occupations.
Job Title Samples
Sample job titles and job title lists categorized by industry, type of job, occupation, career field and position level.