Halloween Spending Statistics, Facts and Trends
Sales Expected to Hit All-Time Record. Here's 2 Reasons Why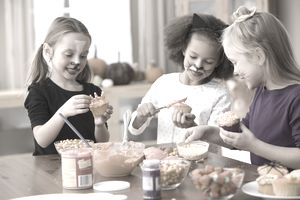 Halloween retail spending is projected to be $9.1 billion in 2017. That's a new record. So is the number of people celebrating at 179 million. They will spend $86.13 each, another record.
One reason is that Halloween is a very affordable holiday. It doesn't cost as much as Christmas or Thanksgiving and is still lots of fun. Part of this is a permanent shift to thrift that occurred during the Great Recession.
Shoppers willing to spend money on something if it provides a lot of value. Halloween does that.
Another reason is that consumer confidence is at its highest level in 10 years. People aren't letting the uncertain state of the global economy scare them away. 
| Year   |  Americans Celebrating |  Average Spending Per Buyer  |  Total Spending |
| --- | --- | --- | --- |
| 2017 |   179 million (Record) |   $86.13 (Record) |   $9.1 billion* (Record) |
| 2016 |   171 million   |   $82.93   |   $8.4 billion |
| 2015 |   157 million |   $74.34 |   $6.9 billion |
| 2014 |   162 million |   $77.52 |   $7.4 billion |
| 2013 |   158 million |   $75.03 |   $6.9 billion |
| 2012 |   170 million  |   $79.82  |   $8.0 billion |
*Note: Not all of those celebrating are buying anything. That's why "Total Spending" is less than "Average Spending" times the number of "Americans Celebrating."
What Do They Buy
Shoppers look to get a big bang for the buck, and Halloween delivers. What's the cost of a few bags of Halloween candy? More than two-thirds (70.6 percent) of Americans hand it out, spending around $25 each.
Even spending on Halloween decor is reasonable, at just $30 per person, according to the National Retail Federation's annual survey.
The most expensive part of Halloween is costumes. Men plan to spend $96 each, compared to $77 each for women. As a result, almost half of Americans buy them.
The top five costumes for adults are a witch, a Batman character, an animal, a Marvel superhero and a vampire.
The top five for children are superhero, Batman character/princess (tied), animal, Spiderman and a Star Wars character. 
Around 16 percent dress up their pets. The most popular pet costumes characters are pumpkin, hot dog, dog/lion/pirate (tied), bumble bee and the devil.
The National Retail Federation hired Prosper Insight & Analytics for the survey. The company polled 6,791 consumers in September 2017. The purpose was to gauge consumer behavior and shopping trends related to Halloween spending. That helps the Federations' member retailers plan for the holiday. The consumer polls have a margin of error of plus or minus 1.2 percent. 
Historical Halloween Sales
Halloween's affordability means that people are spending more now than even before the recession. In 2007, they paid $65 each. Per-person spending hit a low point in 2009 ($56), climbing quickly to $66 a person in 2010, and $72.31 in 2011.  
Here's another surprise -- shoppers spent more in October 2008 ($67) than the year before. Why did shoppers spend so much during a recession? They didn't realize they were in a recession on October 31, 2008. The economy had just started contracting (down 3.6 percent in the third quarter).  
How It Affects the Economy and You
Record Halloween sales statistics buoys retailers.
It signals how well they'll do during the all-important holiday season. That's when about 20 percent of retail sales occur for the entire year. The kick-off is Black Friday, which is just a month later. In fact, 40 percent of shoppers begin their holiday shopping before Halloween. 
The retail industry produces 5.9 percent of U.S. gross domestic product. When it's up, so is wholesaling (also 5.9 percent) and manufacturing (12 percent). Retail sales are a reliable indicator of consumer demand, and that's what drives the U.S. economy.
Strong retail sales makes it more likely that the Fed will raise interest rates in December. The Federal Open Market Committee is looking for signs of a healthy economy. Record-setting retail sales are a critical component.