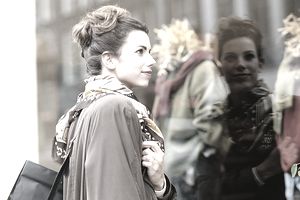 Located midway between Chicago and Milwaukee, Gurnee Mills is an indoor mall that has more than 200 outlet and retail stores, popular restaurants including Ruby Tuesday and Rainforest Cafe, and entertainment for the family with activities like indoor ice skating, laser tag, miniature golf, and a movie theater.
Key outlet stores include Neiman Marcus Last Call, Saks Fifth Avenue OFF 5TH, Banana Republic Factory Store, Gap Factory Store and Nike Factory Store.
Outlet Mall Address:
6170 West Grand Avenue
Gurnee, IL 60031
Phone: (847) 263-7500
Directions to the Outlet Mall:
Gurnee Mills is located at the intersection of Interstate 94 and Grand Avenue (IL 132) in Lake County, Illinois, midway between Chicago and Milwaukee.
Coupons, Sales and Savings Events
For shoppers looking to bargain shop, there are special mall-wide sales events that are held throughout the year. The events are usually on key holidays, including Memorial Day weekend, July 4th, Labor Day weekend, Columbus Day, Veterans Day and Black Friday.
There is also a "Deals" web page on the Gurnee Mills website with a list the coupons and promotions going on in the individual stores. It helps to know in advance which stores have the best sales and to plan out your shopping trip accordingly.
Mall Insider
Another way to find out about the deals going on and receive coupons is by becoming a Mall Insider.
Signing up is easy and free and you will either receive emails or text messages informing you of the event or store savings.
Social Media
Gurnee Mills is active on Facebook and Twitter and coupons and promotional information can often be found posted on one or both of the sites.
Store Hours
Monday to Friday - 10am - 9pm
Saturday 10am - 9:30pm | Sunday 11am - 7pm
Store Listing
Adidas, (847) 855-1538
A'GACI Outlet, (847) 855-1325
A & F Factory Store, (847) 855-2819
Aerie Outlet, (847) 855-1430
Aeropostale Outlet, (847) 855-9440
American Eagle Outfitters Factory Outlet, (847) 855-7340
AT&T, (847) 856-1700
Banana Republic Factory Outlet, (847) 855-1198
Bass Pro Shops, (847) 856-1229
Bath & Body Works Outlet, (847) 856-0685
Bed Bath & Beyond, (847) 855-0045
Belvidere Blues, (847) 856-0910
Best Buy Mobile, (847) 855-0657
Black Market Minerals, (847) 856-8856
Books-A-Million,
Boot Barn, (847) 855-2652
Buckle,847) 856-8208
Build-A-Bear Workshop, (847) 855-5488
Burlington Coat Factory, (284) 855-0565
Call It Spring, (847) 855-2779
Carter's, (847) 855-8631
Champs Sports, (847) 855-0273
Charlotte Russe Outlet, (847) 855-1800
Charming Charlie, (847) 855-2624
Chicago Locker Room By Lids, (847) 856-0100
Claire's (2), (847) 855-0037
Corning Corelle Revere Factory Outlet, (847) 662-1369
Crazy 8, (847) 855-1683
Crocs, (847) 855-5928
Denim, (847) 855-1033
Disney Store Outlet, (847) 856-8239
Dollar World, (847) 855-0413
Dressbarn Outlet, (847) 855-1125
Eddie Bauer Outlet, (847) 855-1206
Euberah Jewelry, (708) 328-5574
Express Outlet, (224) 772-1801
Finish Line Outlet, (847) 856-8906
Foot Locker Outlet, (847) 855-1527
Forever 21, (847) 855-2121
Fossil, (847) 625-9948
Furnish 123, (847) 856-8727
fye For Your Entertainment, (847) 855-1083
GameStop, (847) 855-1540
Gap Outlet, (847) 855-9311
Gateway Newstand, (847) 855-1020
Gifts to Cherish, (847) 856-8368
GNC, (847) 855-8654
Go! Calendars, Games and Toys, (847) 855-0093
Group USA The Clothing Company Outlet, (847) 855-1660
GUESS Factory Outlet, (847) 855-1440
Gymboree Outlet, (847) 855-2695
Harris Jewelry, (847) 855-9201
Hot Topic, (847) 856-8610
H & M, (855) 466-7467
Icing, (847) 855-1210
It'Sugar, (847) 855-0152
Jared Vault, (847) 855-0471
Journeys, (847) 855-0362
Journeys Kidz, (847) 855-0884
Justice & Brothers, (847) 855-5391
Kay Jewelers, (847) 855-0704
Kenneth Cole Outlet, (847) 855-0835
Kids Club, (847) 855-0598
Kids Foot Locker, (847) 855-1420
Kohl's, (847) 855-0928
Lady Foot Locker, (847) 855-0947
Last Call by Neiman Marcus, (847) 855-2036
Lego Store, (847) 855-2833
Levi's Outlet, (847) 855-1576
Lids, (847) 855-1464
Lids Locker Room, (847) 855-5652
Loft, (847) 855-2479
Macy's, (224) 399-4800
Marshalls, (847) 855-1001
Maurices, (847) 855-5216
Motherhood Maternity Outlet, (847) 855-9665
Movado Company Store, (847) 855-0378
Mulan, (847) 855-6058
Nautica, (847) 856-0441
New Balance Factory Outlet, (847) 855-1740
New York & Company, (847) 855-1190
Nike Factory Store, (847) 855-0857
Oakley, (847) 855-1337
Off Broadway Shoe Warehouse, (847) 855-1167
Oriental Gifts, (847) 855-1788
OshKosh B'gosh Outlet, (847) 856-8172
PacSun Outlet, (847) 855-8645
Payless Shoe Source, (847) 855-0077
Perfect Bodies, (847) 855-1580
Perfumania Outlet, (847) 855-1292
Perfumania Outlet, (847) 855-8015
Piercing Pagoda, (847) 855-9718
Premier Fine Jewelry Direct, (847) 856-0820
PINK, (847) 855-2001
p.s. from aeropostale, (847) 855-2725
Puma, (847) 855-2849
Rue 21 Outlet, (847) 855-1146
Saks Fifth Avenue OFF 5TH, (847) 662-0988
Sears Grand, (847) 856-4200
Shi by Journeys Outlet, (847) 855-6024
Shoe Dept ENCORE, (847) 855-1908
Shoeprint, (847) 855-1720
Shoppers World
Signature Perfume Outlet, (847) 855-1870
Skechers Outlet, (847) 855-0597
Spencer's Gifts, (847) 856-0616
Sports Authority, (847) 855-8070
Sprint, (847) 855-1533
Stride Rite Keds Sperry Outlet, (847) 856-8319
Sunglass Hut Outlet, (847) 855-0107
Sunglass Hut, (847) 855-1454
T.J. Maxx, (847) 855-0146
The Children's Place Outlet, (847) 856-8401
Things Remembered, (847) 855-8279
Time Factory Watch Outlet, (847) 855-2135
Tommy Hilfiger Outlet, (847) 856-8388
Torrid Outlet, (847) 855-2130
Toys R Us Outlet, (847) 855-5961
Ultra Diamonds and Gold Outlet, (847) 855-0471
Vans Outlet, (847) 856-6144
Verizon, (847) 855-0255
VF Outlet, (847) 856-1120
Victoria's Secret, (847) 856-6182
Vitamin World, (847) 855-1022
Wilsons Leather Outlet, (847) 855-0791
Windsor Outlet, (847) 855-7439
Yankee Candle Outlet, (847) 855-0960
Zales The Diamond Store Outlet, (847) 856-1380
Zumiez Outlet, (847) 856-8483
For more information, please visit the Gurnee Mills Premium Outlets Webpage