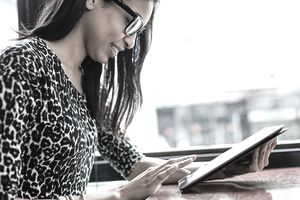 The world is networked digitally in a way that was, until recently, unimaginable to most of us. It's been called a "digital revolution" and a "disruptive" force.  In practice, that means that "business as usual" is no longer relevant or prudent.
Nonprofits need to get social or risk getting left behind. Just because you are small doesn't mean you have to fall by the wayside. Au contraire, it is time to stand tall and reach for the cloud(s).
I recommend three content, online and social media venues for every nonprofit. They are readily available mainstream media and very low risk. 
You do not need a huge marketing budget or a large paid staff to be successful. Just get started, understand the purpose of each tool and build as you go. All it takes is time and persistence.
Website and Blog
Your Website's Purpose: To get people to give you their emails.
You can do lots of things through your site and blog. It is the content hub of all your fundraising and marketing. Everything you do should drive people to your site. Why?  Because you can do what you cannot do easily anyplace else.  You can collect folks' email addresses.
Once you have someone's email, you can control messaging to these readers.  You do not have to wait for them to find you accidentally by searching on Google or through social media.
You own your email list and website.  Once people sign up, you have permission to communicate with them.
You do not own Facebook, Twitter, LinkedIn, Pinterest or Instagram.  These companies make changes all the time about how you access and share messages from their platforms. You are at their mercy.
How do you get folks to sign up?  By offering them something of value.  Just getting a newsletter won't cut it in today's marketplace where people already feel they are receiving too much email.
  So think of something useful or fun. It could be a "how to" list or video, whitepaper, reading list, recipes, inspiring quotes, free ticket or whatever else you can dream up.
Action tip: Offer an email sign-up box not just on your home page, but on every page of your website. Moreover, during some times of the year, consider a pop-up lightbox offering a special (perhaps season-related) gift to folks who join your list.
Set this to pop up the first time folks come to you – perhaps once each day during your big year-end campaign (i.e., 4-6 weeks).
The best advice I've heard is if your visitor dismisses the popup, don't show it to her again for at least a week.
Conversion rates do go up when you use a light box because more people will see your call-to-action. Your goal should be to convert at least one percent of your visitors to subscribers.
Also, ask donors for email addresses on your response devices and at event sign-ups.
Note:  You want your website to be user-friendly for your staff as well as your constituents. So if you are a small to medium-sized nonprofit make sure you've got a framework (e.g. Wordpress) that's easy to update and optimized for mobile. There are lots of templates available, so you do not need to create a separate site for mobile users.
2. Email
Your Email's Purpose: To get people to act on your behalf.
In general, you want to mix up your content. Use the 3:1 formula. For each ask for support, send three communications that don't ask for money.
You can still ask for actions (e.g., Please retweet, Please sign this pledge, Please comment, Please post a photo, Please complete this survey). Vary your messages to deepen relationships.
There are three key ways to use email.
Send regularly scheduled emailed newsletters or blog posts.  Again, mix up the content.  Here you may want the mix to be closer to 7:1. Monthly is a good frequency for most organizations.
Send e-blasts when you need to draw particular attention to something. You can send real-time news related to your cause, publicity about your event peeks into the life of your organization, or announcements about volunteer opportunities.
Send planned fundraising emails. An e-appeal is different from an offline fundraising appeal. It is much shorter. It relies on visuals. Whether people open it may depend on the subject line. Moreover, the ask must jump out. Clear. Concise. To the point. What's great about e-appeals is that folks can donate immediately.
Action tip: Get yourself a good e-mail service provider so that building your lists, making your "gifts" easy to download and sending your emails is efficient, coordinated and, at least, semi-automatic. 
3. Social Media
Your Social Media's Purpose: To drive people to your website and get them to act on your behalf.
You still need social media.
You need it to create awareness for your cause, connect with new prospects, get to know folks with similar values and engage with them.
You need it to drive people back to your website. Because then you'll own these contacts. You'll be able to communicate with them on your schedule. Remember, you do not own your social media profile or followers. The social media platform owners do. If they think you've violated their terms of service, they can disable your account. You'll lose all your supporters. They make the rules.
You need it to build relationships with your followers and fans to take them from awareness to interest to involvement to investment. Drive an "action" that brings your organization value.
Social media should be about real engagement. It's not about counting likes and follows. That engagement will result in financial support, which still happens mostly online through a donate page.
Five Ways to Drive Action
Ask your followers to share your messages. Sharing helps to expand your online presence.
Create compelling content. It will get folks to share without your even having to ask.
Recruit social media ambassadors. Treat them like you'd treat any other committee. Give them a job description, materials they can use (e.g., prepared tweets, photos to share on Facebook, links to YouTube videos) and lots of cheerleading and support.
Stay in touch with current supporters by sharing content regularly.  Frequency keeps you top of mind with your donors and volunteers.
Maintain a constant presence, and always ask for feedback (e.g. through surveys, comments, advocacy, quizzes, contests, free events).
Where to begin?  Wherever your constituents hang out. Here are some demographics about some of the top social media options from the Pew Research Center. And here's a breakdown of the top 10 social networks used by non-profits from a HubSpot survey of small-to-medium non-profits in the U.S.
Just remember that statistics do not tell the whole story. As is often said, your results may vary.
Action tip: Familiarize yourself with all of the social networks. Then determine those favored by your audiences (you can do a quick online survey using the free versions of Survey Monkey or Google Docs) and figure out which features work best for your business objectives.
Whoever you are, whatever you do, the odds are that your audiences use at least one of the top sites: Twitter, Facebook, LinkedIn, YouTube, Pinterest or Instagram.

Develop a content marketing plan to share your content consistently (from your website, blog, and email) using social networks. This is also a way to add more followers to these networks.
Once you've got these new fans, drive them back to your website or blog sign-up box where they'll be asked to share their email address.
One Simple Integrated Strategy
A survey by the Case Foundation highlights different ways nonprofits use social media and how they allocate resources. 

The study supports my recommendations above, noting that nonprofits still get the most action from their websites and email.

However, social media engagement today is growing at three times the rate as email. So, you cannot ignore it.
The Case Foundation also makes some recommendations for a simple strategy to get the biggest bang for your buck, given limited resources.
The best place to begin getting social is to develop a content marketing strategy, including a documented content calendar. Even if you go minimalist, you've got to get organized if you want your work to have significance.  Minimal should not mean negligible. 
Wherever you locate your content (website, blog, email or social media), make sure that it is relevant. That it takes into account the perspectives of your audiences. That it pulls folks into a dialogue. 
If you stick to the plan and tips suggested above, you should be able to get actively social in a way that means something to both your supporters and to your bottom line.