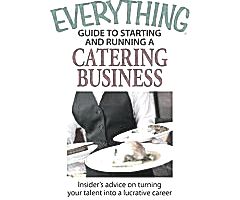 The Bottom Line
The Everything Guide to Catering is aimed at those individuals looking to start a catering business, not a restaurant. But much of the advice that author Joyce Weinberg gives easily translates into the business of restaurant catering. I have about a decade of catering under my belt, from weddings to business luncheons and I still picked up a lot of useful information in The Everything Guide to Catering that I can use in my own restaurant.
Pros
Gives a great overview of the skills required for caterers, including cooking, organization, custo
Has a whole section dedicated to menu writing and guidelines as well as how to write customized me
Has a friendly, conversational tone that is easy and enjoyable to read.
Cons
None,The only drawback , from a restaurateur's point of view, is that it is geared toward catering,
Description
Discusses the multi-faceted role the owner of a catering business plays, which is similiar to a restaurant owner.
Goes into good detail about pricing menus, including the benefits and drawbacks of higher prices.
Describes new trends in catering and the increase demand for innovative foods for parties and events.
Discusses how to hire and train staff.
Gives a detailed equipment list and suggestions on purchasing and renting equipment.
Has an entire chapter dedicated to proposal writing for catering bids.
Weinberg breaks down the preliminary costs of menus and how to figure in labor and overhead costs.
Guide Review - The Everything Guide to Starting and Running a Catering Business
I really, really liked this book. Perhaps because I understood everything Weinberg was explaining, from my own catering experience. However, The Everything Guide to Catering is perfect for novice caterers as well. It breaks down the whole business of catering into easy to digest steps.
It can be used by individuals who want to start a catering business or by someone who is looking to incorporate catering into a new or existing restaurant. I especially liked Weinberg's suggestion to block off a span of time each week/month to taste new menu items and write new specials. In the hectic life of a restaurateur, you sometimes forget to take time for the fun stuff. This book is a great jumping off point into catering that inspires and motivates.