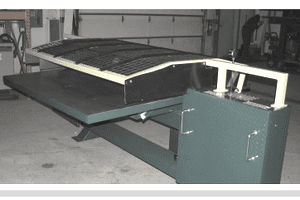 Companies can get into trouble when they remove guarding, and fail to put it back. Unguarded machinery is a common infraction identified by OSHA inspectors. However, employers can also find themselves facing OSHA fines even if factory equipped guarding is intact, and is determined to not meet OSHA requirements. 
The issue surfaced in 2013 when leading wood pallet recycler IFCO Systems experienced problems.
(IFCO has since divested its pallet recycling operations). It had been in the process of changing the bandsaw guards on over 100 pallet dismantling machines, but none the less was fined in Colorado. OSHA cited IFCO's Henderson, Colorado facility with one repeat and five serious citations for improper machine guarding. A $50,000 penalty was issued for failure to provide adequate bandsaw guarding. Other infractions included lockout and noise. Total penalties amounted to $67,765. IFCO stressed that it had factory-installed guarding on the units that had not been modified.
The inspection was triggered under an OSHA program to target employers with high injury and illness rates. OSHA issued similar citations to IFCO locations in Smithville, Ohio, on July 12, 2006; Columbus, Ohio, on Dec. 5, 2008; and Atlanta, Ga., on Oct. 8, 2010.
Mike Hachtman, former Senior Vice President Sales and Business Development for IFCO Systems, commented in 2013 that his company had been working on the bandsaw guarding issue with OSHA since 2009, collaborating with the Columbus, Ohio OSHA office to develop a better guarding system.
He stressed that all of IFCO's bandsaws have guards, either factory installed or retrofitted. "The bandsaw pallet dismantling machines in question were fitted with guarding installed by the machine manufacturer," he said. Additionally, there had been no injuries associated with bandsaw usage over the preceding five years.
"Band saw pallet dismantling machines are widely used and a valuable component in the pallet recycling industry," Hachtman added. "IFCO has worked closely with OSHA and machine manufacturers to insure these machines are safe while also able to operate efficiently. While we will continue to work with OSHA we will also aggressively defend IFCO from the proposed citation. We will also continue our tireless effort to provide IFCO employees with the safest workplace possible."
"It is a challenge for pallet recyclers to know what guarding is going to be acceptable," Hachtman said. He cautioned pallet industry bandsaw owners that from their experience, factory supplied guarding may no longer be acceptable to OSHA and that the 12" danger zone is no longer adequate.
There was also coverage of the bandsaw guarding issue by Chaille Brindley at Pallet Enterprise.
In 2015, NWPCA addressed the bandsaw guarding issue in Pallet Central Magazine in the article Best Practices for Band Saw Safety. It states:
When approaching OSHA on this issue in the previous administration, NWPCA took the position that, by following recommended "best practices," employees can work safely around such potentially hazardous equipment without installing point-of-contact guards. After development of the best practices through the previous OSHA/NWPCA alliance, the salvo of citations ceased for the most part but, in the current administration, isolated enforcement actions have occurred concerning equipment such as dismantling machinery under one of OSHA's machine guarding standards (e.g., 29 CFR 1910.212 and 1910.213)
Employers are well served if safety SOPs have been established before an OSHA visit occurs, and that documented training of employees on safe work practices has been undertaken. Warning decals on equipment should also be prominently displayed to reinforce safety training and work rules.